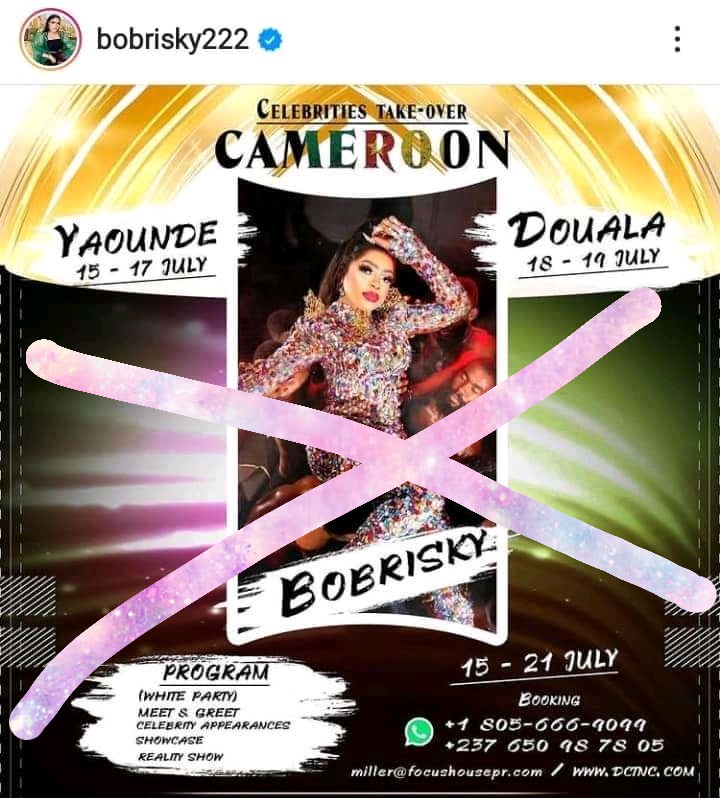 –  INDIRECT ENFORCEMENT OF THE LGBT AGENDA
–  NIGERIAN GOVERNMENT HAS BEEN BANNING HER EVENTS , CAMEROON IS NOT A GARBAGE DUMP
???
Nigerian transgender Okuneye Idris Olarenwaju popularly known as BOBRISKY has officially announced on Instagram she'll be in Cameroon from the 15th of July to the 21st of July 2021.
Her visit comes amidst rising homophobic sentiments in Cameroon.
If Naira Marley's show was annulled by the government , Bobrisky's event should be reprimanded in the same manner.
Bobrisky is a bad influence to the Cameroonian youths, a nuisance to African values and her event should be banned.
We refuse to accept someone who is labeled by The National Council for Arts and Culture (NCAC) of  Nigeria as " a disgrace and disgust to Nigeria" .
The Nigerian government doesn't tolerate any public activity by BOBRISKY.
Bobrisky's 28th birthday party at Ikoyi, Lagos was aborted by the Lagos State Police Command in 2019.
The Director-General of NCAC Otunba Olusegun Runsewe seriously condemned her actions and revealed  that the show was disrupted because  Bobrisky was going to set up the African Chapter of Gay and LGBT  Nigeria during the party and had over 90 guests across Africa.
BOBRISKY propagates same sex relationships which is not admissible in Cameroon.
Article 347-1 of the Penal Code prohibits sexual relations with a person of the same sex with a penalty of between six months to five years imprisonment, as well as a fine. The law is framed in gender neutral terms and therefore applies to sexual relations between men and between women.
To set an example, in May 2021, two transgender women, a socialite Shakiro and her friend Patricia, were sentenced to five years' imprisonment under Cameroon's anti-homosexuality laws.
Bobrisky is an advocate for LGBT rights and her visit to Cameroon is an indirect enforcement of the  LGBT agenda.
#nexdimempire