The NEXDIM EMPIRE concept was nursed in April 2009 by two young Cameroonian Entertainment Industry visionaries, Njang Stephen Mbu  (Steveslil) a music producer,songwriter,singer and entrepreneur and Mambe Churchill Nanje, President of AfroVisioN Group Limited,Cameroon and founder of NJORKU.COM .
This idea was prematurely conceived with the aim of branding and marketing Steveslil and Achalle,Cameroonian R n B,soul and afro-beats artistes IN 2009.
This niche idea l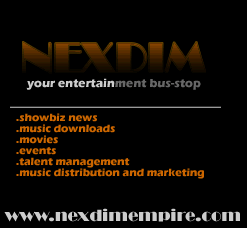 ater evolved into a vision of bringing Cameroonian talents in the music and Film industry to gain exposure, credibility and sell out their products locally and internationally.
NexDim is an entertainment house with a defined objective of instilling the value of creative imagination and throwing light in the music , fashion , sports and film Industry in Cameroon.
NexDim is concerned with Banding of music artistes record deals,CD distribution and marketing, advertising, artist promotion ,online sales and downloads, event management , mass production of CDs,printing of posters, stickers and banners and T-shirt designs.
NexDim is the entertainment bus-stop in Cameroon .
SERVICES
-ARTISTE BRANDING
-ENTERTAINMENT NEWS
-MOVIE PRODUCTION
-VIDEO PRODUCTION
-CD DISTRIBUTION , MARKETING AND RETAIL
-ADVERTISING
-ARTISTE PROMOTION
-ONLINE SALES AND DOWNLOADS
-EVENTS  MANAGEMENT
-MASS PRODUCTION OF CDS
-PRINTING OF POSTERS, STICKERS AND BANNERS
-T-SHIRT GRAPHIC DESIGNS
PARTNERS