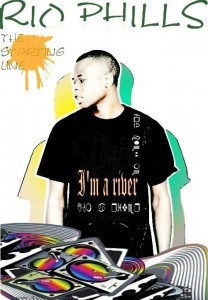 The Cameroonian music scene is a diverse mix of all sorts of people who are united by their love of the game and their immense talent. One of those is Rio Phills whose love for hip-hop in particular and music in general comes from deep within. We caught up with the artist and he had this to say.
Nexdimempire.com: Kindly tell our readers who Rio Phills is?
Rio Phills: Hi everybody. There's not much to say about me. I'm just a  guy who loves music and who wants to share that passion with people all over the world.
Nexdimempire.com: When did you get into music and what are some of your influences?
Rio Phills: I have been making music for four or five years now and I listen to many genres ranging from Rock 'n' Roll to pop, country, r'n'b, hip-hop, electro and so much more. Some of my favorite artists are people like  Mohombi,2 Face Idibia, K'Naan, Akon , Linkin Park, Nneka, Ayo  and others.
Nexdimemmpire.com: Why then are you drawn to hip-hop in particular?
Rio Phills: Destiny. ( laughs). Seriously, I can't explain this. During  my childhood, I listened to all  kinds of music but I've decided to sing r'n'b, hip-hop, electro. It's just how it goes . It's the style of music I like the most. It comes from deep within my soul.
Nexdimempire.com: What are your impressions about the state of hip-hop in Cameroon?
Rio Phills: There are many great talents but the hip-hop industry here needs more support, promotion and professionalism.
Nexdimempire.com: What are your accomplishments so far and what more are you planning?
Rio Phills: Since I started, some people have always been telling me to make an album. I think that an artist doesn't only have to  make an album for the sake of making an album. You have to be strategic. First of all, you should build your fan base with people who will support your music and who will be able to buy it when they  hear it's been released. Many unknown hip-hops artists here often release albums; it is not bad but you must get great promotion in order to succeed in such a situation. Talking about me and my career, first of all ,I want to release my first single because this far  I only have demos recorded and mastered by me. I think that today I am ready to make a single and I want it to be international. I am taking all my time to work on it. It can be ready in a few months. I will make a video and I will promote it. I'm self-sponsored but I would really like to get a contract with a producer or a label to help me achieve this.
Nexdimempire.com: With your experiences so far, will you encourage anybody to become a hip-hop artist in Cameroon and why?
Rio Phills: Why not? But never abandon your studies to make music. First of all, you should consider hip-hop as a hobby, a passion. Your education should be your priority. Me for example, I'm a student in the University here in Cameroon. Maybe if you sign a serious contract then you can concentrate all your energy on your career.
Nexdimempire.com: Any last word?
Rio Phills: Download and listen to my demos for free on my reverbnation page   http://www.reverbnation.com/riophills . Tell your friends, family, and everybody around you to do same . The first single is coming soon with an official video as well. For more, join my official facebook page http://www.facebook.com/riophillsmusic
Nexdimempire.com: Thanks for your time.
Rio Phills: You are welcome. All the pleasure is mine.
There you have it nexdim people. For anyone seeking to contact Rio Phills, here are his contacts: Mail: riophills@ymail.com Phone: 00237 97 61 59 07 Links: http://www.facebook.com/riophillsmusic
http://www.reverbnation.com/riophills  http://www.twitter.com/riophills