Hey all fans of the Ajebota king West Don here is the golden ticket to meet your favorite  artist as he will be performing live on stage at the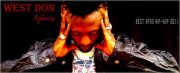 Buea International Trade Fair come Friday the 30th of March 2012.
Come one come all and feel the bomb exploding from Cameroon's own mistaken by many as Nigeria's. Do not miss this opportunity as we help you reminisce on West, this is 'Ajebota'
Enjoy!