Gorgeous and phenomenal actor and script-writer Eyong Terence is undoubtedly one of Cameroon's finest emerging movie stars. His immense mastery of theatre arts, his charisma and profound diction keeps him on the pedestal of Cameroon's refined prodigies in the fast-growing film industry .NexDim caught up with him during a production session of the forth-coming blockbuster ''Spirit of the Dead'' at his cosy hotel suite in Buea for an up and close interview on his career exploits and prospects.
 NEXDIM: Hey, Terence . How are you doing?
Eyong Terence: Am fine.Thank you
NEXDIM: Can you briefly introduce yourself?
Eyong Terence: I'm called Eyong Terence , hailing from Manyu Division, South West Cameroon. I am a script writer, actor , and a data collection officer with a prominent state institution  .           Equally a holder of  a BSC in Political Science from the University of Buea .
NEXDIM:When did take that brave decision to indulge into acting and what's in your repertoire so far?
Eyong Terence:I developed early penchant for acting driven by an internal passion and my ability to entertain. This dream turned into reality in 2003 when I played a role in an amateur home film production entitled ''Drastic Measure'' directed by Ashu Vahid.  Later in 2005, with the debut experience I had hitherto garnered, I got more professional playing a role in  a controversial yet acclaimed movie titled '' Leather Gangster'', movie directed by Rene Tabot. In 2006, I was introduced in a TV commercial for CCC Bank and in 2010 for Western Union as a model. I became more solicited and later honored with a role in a 52-episode-series ''ENIGMA'' directed by Billy Bob to be broadcast on CRTV.
NEXDIM: What's your source of Inspiration?
Eyong Terence:I am a sucker for African and American movies and soaps with particular interest in role models like Terence Howard, and the Nollywood ace actor Richard Mofe Damijo. Their uniqueness, strong sense of delivery and prodigious aptitude are forces to reckon with.
NEXDIM: You played a lead role in a movie that rounded up recently. Throw more light about the project.
Eyong Terence: Yea. I just rounded up with a movie titled ''Spirit of the dead''in which I played a lead role. The movie which will definitely be impressive and captivating also stars Solange Yijika, Epule Jeffrey, Lino, award-winning actor Nchifor Valery and directed by Billy Bob.
NEXDIM:How do you perceive the level of our film industry and what are the difficulties you face?
Eyong Terence:I think we are at the verge of real professionalism and big business. The technical and material resources are already available. It takes just real lobbying and real investors to make it profitable and self-sustainable. Government intervention can utterly give credibility to the local film industry by providing subvention and institutionalizing actor, producer as well as marketers guilds. Also check foreign infiltration of movies flooding our markets, encourage home consumption through mass media attention are possible solutions to increase local consumption of our products.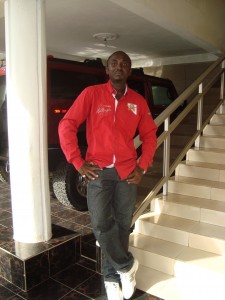 NEXDIM: How can our movies breakthrough in Cameroon with the unprecedented infiltration of Nigerian movies?
Eyong Terence: If this is impeded, our local consumers consume more of what they have available .The private sector equally has to come in for sponsorship, fulfill corporate social responsibility by organizing and sponsoring premieres of soaps , series and other feature films.
NEXDIM: What are your future plans? Any script in the pipe-line?
Eyong Terence: Definitely. I'll be  getting into the production of documentary-films, one of which will have to do with eradicating stigma in the fight against HIV AIDS as well as wildlife conservation and forest management. Currently researching on a possible avenue for marketing of audio-visual production within the context of CAMEROON and international.
NEXDIM: What's your favorite meal?
Eyong Terence: Rice and anything goes
NEXDIM: Are you married or any GF?
Eyong Terence: Single. Girlfriend?  Yea
NEXDIM: What Genre of music do you often listen to?
Eyong Terence: Hip Hop , R n B
NEXDIM: Who is your favorite artist ?
Eyong Terence: The Legendary king of pop Michael Jackson
NEXDIM: What advice can you deliver to up and coming actors?
Eyong Terence: First, Develop the passion, groom the ability, instill confidence in yourself and be real. Professionalism, research and hard-work should be given due consideration.
NEXDIM: Do you often check out Nexdimempire DOT COM?
Eyong Terence: Yea. Nexdim is doing an awesome job. And I think NexDim should carry out more research in discovering budding artists, and showcase rising artists to the limelight.
NEXDIM: 'Twas nice having you here
Eyong Terence: The pleasure is mine.