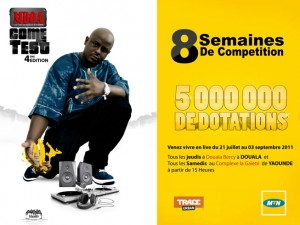 The fourth edition of the Mboa  hip hop Fetsival and Miss MBOA will run from July 21 to September 3, 2011. During these 8 weeks there shall be  following disciplines: RAP, DANCE, DJ, and Miss Mboa pageant.
This edition will simultaneously take place in Douala and Yaounde. In Douala it shall run at Douala Bercy every Thursday and in Yaounde, every Saturday at Bastos Complex from 3 PM.
It should be noted that the semi-finals and finals shall take place only in Douala. This means competitors of Yaounde who reached the semi-finals will be invited to Douala.
On the evening of September 3, 2011, 5 million of endowment will be distributed to the various winners of each category along with several lots of great value.
To enhance this, a show featuring renown names in the Hip Hop scene in Camer  like KROTAL , SULTAN OSHIMIHN -,TERROR , Boudor , JAY N -,DAREEX , ZAYON CREW – Bashiru – RED ZONE CREW – VALSERO maleic-X – ZINNIA – ONE FACE – Lyrics – Djah MISSA , LADY B ,BLACK LARUE , 20 CENT , URBAN LADIES , EBONY , STONE  PHATAL , LORD Eriko , OBIDY STYLE , SATEM RECORDS ,  NKUNKUMA and many more …
Call the following for more info :  22 64 70 43 / 74 16 03 03 / 99 85 80 08.