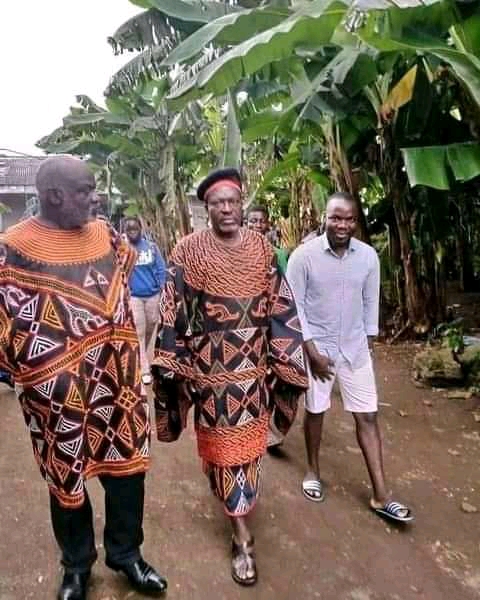 The entertainment ecosystem is buzzing with the inflow of first-rate Nigerian entertainers Kanayo O Kanayo, Nkem Owoh (Ukwa) and IK Ogbonna.
These collaborative moves with Nigerian actors have been a strategy employed by movie producers to act as a bait to lure massive viewership considering the fame and influence of the actors.
Nigeria is undoubtedly a global film powerhouse boasting of producing around 2,500 films annually and is projected to record total cinema revenue of $22 million in 2021, rising at 8.6% CAGR.1.
Their actors have a gargantuan influence across Africa and their presence in Cameroonian movies evoke interest spiking commercial value.
It was this same type of collaboration that blew up Ghanaian movie industry in 2006 with Frank Raja Arase turning Van Vicker, Jackie Appiah, Majid Michel, Yvonne Nelson, John Dumelo, Nadia Buari and Yvonne Okoro into international stars of the silver screen.
The professionalism and experience of Nigerian actors evidently adds impetus to Cameroonian productions.
Importing Nigerian actors is usually a high budget venture. It costs collosal sums of money and the question is whether there's any return on investment. Where are movies sold ? Who watches them ?
Are movie producers aiming for festivals that have no financial profitability or is Netflix the sole target ?
Statistics are crystal clear that all Cameroonian movies on Netflix have Nigerian film faces; Ramsey Noah in "The Fisherman's Diary", Alex Ekubo on "A Man For The Weekend" and Richard Mofe Damijo in "Therapy".
From the hypothesis, we can decipher how the Cameroon movie industry cannot be self-reliant. Nigerians have always been solicited to enhance the value of our movies and we are not throwing the towel anytime soon.
From 2005 – 2021, (16 years) our movie industry has not yet gained independence. We have been unable to stand on our feet.
Agbor Gilbert's film "Before The Sunrise" in 2005 had as movie cast prominent Nigerian film stars Zach Orji, Dakoré Egboson, Jacobs Olu and Fred Amata.
And the trend is perennial.
Financial metric in the movie sector has proven over the years that Cameroonian movie producers solely rely on Netflix for licensing fees as a source of monetization after the death of DVDs.
"The Fisherman's Diary" is quintessential of a successful Cameroonian movie which entailed a high budget and international networking. And it was this international acclamation that enticed Orange to sign a deal with Kang Quintus as an ambassador.
It could only be from a passionate "bushfaller" filmmaker who stood at the frontline of his destiny.
Festival awards have always been accolades to show off on social media with no 5 frs in the pocket. Investment has been going down the drain. 80 percent of actors are just passion-driven.
The movie producers have been compelled to focus on the coarse scale of marketing without paying attention to the finer scale. The common man doesn't have access to Cameroonian movies.
Buyam sellam mami for Mamfe like Ukwa e films, e go glad for see Ukwa for Cameroonian film but whoside that mami go buy or watch that film ?
Cameroonian movies have an elite viewership as the common man is enable to afford for Netflix and other online streaming platforms.
Well, the movie producers have no choice. Giant media houses in Cameroon like CRTV and Canal 2 that are capable of acquiring such riveting content are seemingly not interested.
Cameroon too no get movie theater culture.
So how can the industry be sustainable in the long run ?
It however gets frustrating for a movie producers in situations where the movies are not selected by Netflix.
It was all glorious during the era DVDs but digital innovation precipitated its extinction. Now it's all about VOD (Video and Demand) and streaming.
Mobile streaming platforms like MTN's Yabadoo and Nexttel TV have not done enough to market their platforms to consumers.
The industry keeps playing to the gallery hoping a miracle will happen.
The collaboration with Nigeria is a sterling opportunity to enhance the growth of our film industry but for how long shall be be reliant on Nigeria?
Les choses a verifier
#nexdimempire