Three Buea base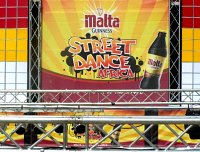 d dance crews BLACK LM ,TRUE BLACK and DIMS were finalists amongst 5 other groups in Cameroon bidding for the price as winners of the prestigious MALTA GUINESS STREET DANCE COMPETITON 2009.The winner was to represent the country in Kenya and goes home with a cash price of 12 million CFA. It was quite frustrating that none of these groups won the highly solicited price. The crew dubbed «La Ligue du Mal» will represent Cameroon at International Street Dance Contest in Nairobi.
It was a night to display talents, quality in a vibrant contest to select Cameroon's best street dance crew. The competition took place at Douala Bercy hall on Saturday May 30, 2009. The young stars most of them aged 21 and above displayed their capabilities and showed originality in choreography. The best crew chosen was called "La Ligue du mal" and they will represent Cameroon in the international competition of Malta Guinness Street Dance Africa 2009.
"La Ligue du Mal" crew emerged out of a contest of eight different crews from around the National territory. After going through heated regional contests, the Malta Guinness team of jury came out with eight contestants from which they had to select the best group to represent the country in Nairobi, Kenya in September for the international contest.
The various groups that took part were: Diablos, La Ligue du mal, Hot Clan dance, Boogy dance from Douala, Black LM, True Black and Dims from Buea and X-Thriller from Yaounde. The different groups demonstrated energy and vitality in their dance styles. Though some displayed fairly common styles there were others who were original and well coordinated.