Alfred Nemfor

commonly known amongst his peers as Fredash is a young fashion designer, model , photographer and CEO of Fredash Modeling Agency in Buea. NexDim caught up with him at his residence in Molyko for an interview about his career and forthcoming projects.
Hello Fredash. How are u doing?
Alfred Nemfor
What has preoccupied you after launching your modeling agency ?
'It's been a little hard. You know after that I have been trying to expose the models by taking them from one fashion show to the other and creating jobs for them'.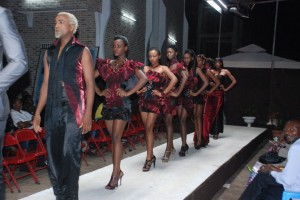 That's quite encouraging. It is rumoured out there that your modeling agency is no longer operational. Have you witnessed any lukewarm or low response in your auditions ?
'That really sounds amusing. Fredashmodels has been operating from the day it was created till date.You know people always try to crumble your reputation when you are journeying to success".
Have you witnessed a situation where some of your models lose interest in working with you ?
"Definitely .Not only models but some workers.It's quite normal."
"So far, we are trying to get contracts from advertising agencies. We are now in partnership with some magazines in Cameroon and one in the US
and recently, we organized a fashion show "VIP FASHION PLACE' at Hotel Residence Carlos that was on Saturday May 21th"
Wow! Tell me.What are the difficulties you've been facing in the industry which I know is an emerging one ?
"You know as the CEO of the agency and the coordinator, I try as much as I can to create jobs for the models which is not easy. But I try my utmost best.Casting new models and taking them for classes, that's teaching them to be perfect for the clients is also not easy. But we   believe in our selfs and with God everything is going smoothly.We also face financial difficulties like to equip our studio with Cameras and lamps,transport the models from one town to the other "
"Yes. That makes the business interesting".
MAMOD agency and PUNCUEL in Douala.
What are your forthcoming projects ?
"We are looking forward to other fashion shows here in Cameroon and Face of Africa.Three of our models are in MISS Cameroon National finals.That will be our last Miss competition ,then we move onto other projects"
"Micado JR and DEMANOU from Douala. JAMEL and MORIS from Yaounde and  AFROSHIC here in Buea"
As an upcoming designer and CEO , what is your advice to others who want to venture into fashion and modeling ?
"They should believe in themselves and take a leap of faith, it's hard but we must do it".
Your words are quite encouraging.Who is your role model ?
Lol. David Beckham.I love and respect him.I also love GIANFRAN.CO FERRE
Nice having you on nexdimempire.com .