Recently NexDim had the opportunity to meet with a Cameroonian Rap/Hip Hop artist based in Cyprus by the name of Njungi Tiga a.k.a Rhyme Killer and he had alot to share with us. Check out our conversation below.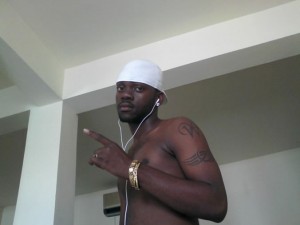 HELLO RHYME KILLER
Halloo
HOW ARE YOU TODAY?
I'm Doing Great
OK, CAN YOU PLEASE TELL US ABOUT YOURSELF
My real name is Njungi Tiga and I am one hell of a guy. I am the type of  guy that never gives up,  I could be put in a jungle and come out with a chinchilla suit along an extra 10 pounds body weight from feeding on others.
WHAT IS THE ORIGIN OF THE NAME RHYME KILLER
I have these things of matching the lines in my rap verses thus the name "Rhyme killa", in other words the name is an attribute from the fact that I like rhyme scheming with alot of metaphors and similes.
WHAT PART OF CAMEROON DO YOU HAIL FROM
I come from Bali in the North West province. I was born in yde and grew up in Biyem Assi
CAN YOU PLEASE DISCRIBE TO US YOUR GENRE OF MUSIC
I do urban American hip hop
WHAT IS THE SPARK BEHIND THIS FLAME?
I loved listening to rappers like Notorious BIG and 2 PAC, from them i developed the interest in rap music. Did some street battles, started writing lyrics then over time I realized I was obese with a lot of talents
HAS YOUR BACKGROUND OR ORIGIN BEEN A BARRIER TO YOUR PROGRESS IN THE MUSIC WORLD?
Well, it is not about where I come from, I do good music and I have had alot of positive critics and to me it's just a matter of time for me to literally blow up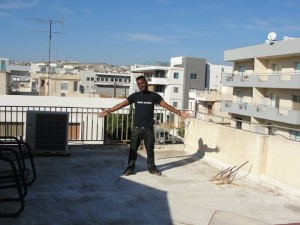 HOW FAR DO YOU THINK YOU HAVE YOU GONE?
I did an album in 2006 "wizzyhood",  followed by a few singles, I later did a joint album with a group based in Limbe called "ill squad" The project was called "One Mic".  My last project was with a Buea based group called "Ovadoze" and the title of the album is "Ovadoze"
DID YOU COME ACROSS ANY DIFFICULTIES DURING THESE PROJECTS
ummmhh yeah going through a project demands a hell of work and by nature I hate stress, so I consider that complication on my own level
WHAT ARE SOME OF THESE CHALLENGES?
Staying up late in the studio etc.  I hate it though I face it
CAN YOU SHARE WITH US YOUR GREATEST FEAR?
My only fear is that God at anytime can cuts me short when I am on ma way to the top.
HOW IS THAT?
I know whenever I  put out a good record it will sell,  So I bother less about record sales
IT IS CLEAR THAT YOUR ROLE MODELS ARE ALL DEAD, WHO THEN IS ACTING NOW AS YOUR ROLE MODEL?
Rick Ross all the wayyyyyyyyyyy
WHAT DO YOU THINK THE GOVERMENT OF CAMEROON CAN DO TO HELP THE MUSIC INDUSTRY?
First of all, the government aint shit,  the music industry shouldn't depend on them they should make moves themselves. In Nigeria for example, it wasnt the government helping the industry out.
BESIDES BEING IN THE STUDIO WHAT DO U DO FOR LEISURE?
I play rugby, I swim and I go clubbing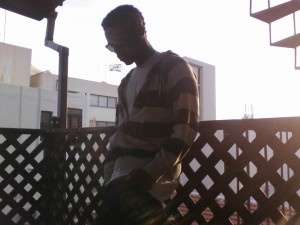 AS AN UPRISING CELEBRITY, HOW DO YOU MANAGE YOUR FANS?
Well, I show them what they want to see, a hard headed street cat.  let me put it this way, I  am ok with them, when I meet any online say on Facebook we relate normally with no strings attached, I give them all that they need and I am out to please my fans.
BESIDE YOUR TALENT, TELL US ABOUT YOUR EDUCATIONAL BACKGROUND?
I am a holder of a CCNA Diploma and presently I am working on a degree in e-business in Cyprus.
WHAT IS YOUR NEXT MOVE FROM HERE?
Well, I intend moving to the states and look for a more lucrative record deal there.
WHY USA?
At least there, talent is discovered and it is well paid for.
AS A MEMBER OF THE MUSIC LINE IN CAMEROON, WHAT IS THE GREATEST PROBLEM FACED BY THE INDUSTRY?
Piracy
AND HOW CAN THIS PROBLEM BE SOLVED?
Piracy is a difficult nut to crack, so all they gotta do is hope and get the police to stop those selling of pirated Cd's
IT IS SEEN AND RECOGNISED BY ANYONE WHO KNOWS RHYME KILLER THAT YOU GOT TATOOS ON YOUR ARM, DO THEY HAVE A MEANING?
Well my tattoos have a meaning.  The "W" is in honor of my first album "wizzyhood" And the one below is a local gang emblem.
LEAVING YOUR CAREER FOR A BIT LETS GET TO SOMETHING MORE PRIVATE, ARE YOU MARRIED
No but i have my mind on a single lady right now. She is presently miles away, based  in Cameroon and a journalist by heart.
IS DISTANCE A PROBLEM IN THIS RELATIONSHIP?
i have no problem with it, when you get fond of someone then distance really doesn't matter
HOW DO YOU COPE WITH WOMEN,  ALCOHOL AND YOUR CAREER?
Those are mere allegations, I am not an alcoholic or womanizer but I just dabble with future used goods… Besides when is time for work I let go off leisure
WHAT WAS YOUR BEST DAY SPENT IN CAMEROON
Valentine's day, I spent the day with my girl alongside another couple and it was lovely.
WHAT OUTFIT DO YOU PUT ON AND FILL COMPLETE?
khaki suit and a pair of chuck Taylors
AS A BALI BOY, HAVE U EVER BEEN INVOLVED IN CULTURAL ACTIVITIES GIVEN YOUR WESTEN UPBRINGING?
Of course, when I was in Cameroon I used to attend cultural meetings once every year with my dad called the LELA DANCE
WHAT DID THIS ENTAIL
It's mostly gun shooting and I used to love watching them
SO, WHY DID YOU MOVE FROM CAMEROON?
Because I didn't find my talent there
AS AN ONLY BOY GROWING AMONG 5 GIRLS, WHAT CAN YOU DO?
I can cook a list of things,  Such as lazania Ronny and cheese. Mostly fatty food. I also know how to dress well.  I have a good taste of color matching that I learnt from my sisters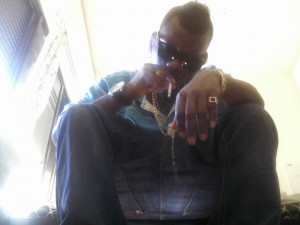 WHAT IS YOUR BEST AFRICAN DISH?
My favorite meal is Ndole and miondo enlaced with stock fish!!!
WITH REGARDS TO YOUR TASTE FOR MONEY WHAT HAVE YOU DONE SO FAR?
Well, I am trying to lay my hands on as much paper as possible, endorsements and deals
ANY WORD OF ADVICE FOR UPCOMING YOUNGSTARS WITH DREAMS LIKE YOURS?
Well, they should keep their heads up and keep their pride low and most importantly they should put their heart in their work, nothing good comes easy.
You can catch Rhyme killer on facebook: http://www.facebook.com/njungi while we leave you with his most recent sound in the video below