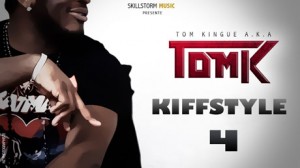 Tom Kingue hails from Douala, Cameroon. Influenced by the music often listened by his older brothers in his tender age, he developed a fascination for rap music. With childhood friends, he founded a group which had as watchwords : "Rhymes, Techniques and Punchlines". It is on this basis that his writing evolved over time. In order to continue  education after high school, he left Cameroon to settle in France, specifically in Strasbourg.
Not losing sight of his passion, and despite the absence of his cronies, he continued to develop his art. Subsequently, he meets Sweet, a composer, with whom he decided to work. Through their collaborations with  Skillstorm, an  independent label, which Sweet had already signed enlisted Tom K. Tom K and Sweet  then decided to promote their talents in rap and music composition .
Despite the low quality images of the first episodes filmed, Tom k began to make a name in his town and on the web.
The outcome is "KIFFSTYLE".

http://www.youtube.com/watch?v=5Q40xIATBe4