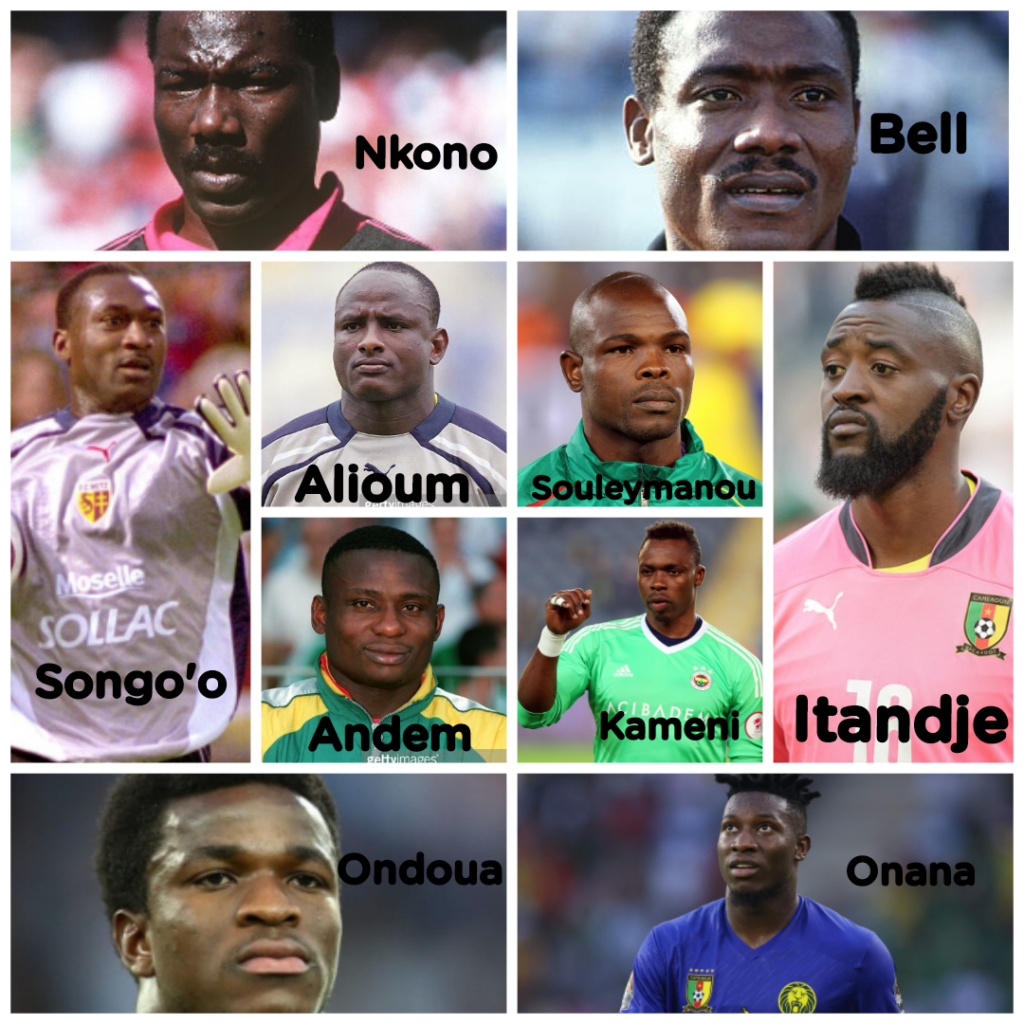 Cameroon is reputed for having a cream of goalkeepers. Below are 10 Cameroon goalkeepers and their era.
1. NKONO THOMAS (1982-1994)
N'Kono "The Black Spider" is arguably Cameroon's best goalkeeper of all-time. He predominantly played for Espanyol De Barcelona in Spain while active.
N'Kono was a burly,  dynamic and athletic goalkeeper, popularly known for his agility, positioning, and acrobatic saves.
He played in three World Cups: 1982, 1990 and 1994. He was the goalkeeper that took Cameroon all the way to the quarter finals of the 1990 World Cup, before exiting against England in a 3-2 score.
The 37-year-old N'Kono was called as backup to Bell Antoine in the last minute of the 1994 edition's preparations, and did not play.
N'Kono left a huge legacy. Italian goalkeeper Buffon declared that he decided to play in the goalkeeping position after seeing N'Kono's performances at the 1990 World Cup and named his son Thomas.
2. BELL ANTOINE (1982-1994)
Born on October 8, 1954, Bell Antoine played 3 world cups; 1982, 1990 and 1994. Considered as one of the greatest African goalkeepers of all time, Bell was known for his sweeper-keeper techniques; an ability to rush out of the box to sweep up the ball when his team played with a high defensive line.
During his time as goalkeeper he played for Eclair Douala, Oryx Douala and Prisons Buea and Union Douala. He had a stint in Egypt before playing for Marseille, Bordeaux and St Etienne, where he ended his career.
3. JACQUES SONGO'O (1984 – 1998)
Born on  the 17th March 1964, Jacques Songo'o played for Deportivo De la Coruna during his successful period as goalkeeper. He was voted Best African Goalkeeper in 1996. He was a member of Cameroon's Olympic squad that competed at the 1984 Summer Olympics in Los Angeles.
Songo'o was called up for the 1990, 1994, 1998 and 2002 FIFA World Cups. He was first-choice in France 1998.
4. ALIOUM BOUKAR (1994 – 2002)
Born on the 3rd of January 1972, Alioum played as a goalkeeper for Canon Yaoundé, Samsunspor and Istanbulspor, Turkey.  With an imposing figure, Alioum was renown for his stellar saves.
He participated at the 1998 FIFA World Cup as second choice keeper and the 2002 FIFA World Cup as coach Winfried Schäfer's first choice. He was also part of the triumphant 2000 and 2002 African Cup of Nations squads.
5. ANDEM WILLIAM (1996-1998)
Bassey William Andem was born on the 14th of June 1968. He played mostly for Union of Douala and Boavista in Portugal. He featured irregularly for Cameroon as Jacques Songo'o's substitute. He participated in the 1998 World Cup.
6. SOULEYMANOU HAMIDOU (2000 – 2010)
Souleymanou Hamidou was born on 22nd November 1973. He was part of the victorious 2000 African Cup of Nations squad, as Alioum Boukar's substitute.
He participated in the 2006 African Nations Cup when Cameroon exited in the quarter-finals against Ivory Coast. He was called up by Paul Le Guen for the 2010 FIFA World Cup. He was starting goalkeeper for the three group matches played,  to the bewilderment of Cameroonians because Kameni Carlos was at his prime.
7.  KAMENI CARLOS (2000 – Present )
Kameni is undoubtedly one of the best goalkeepers in the annals of Cameroon football history.
Born on the 18th of February 1984, Kameni is actively playing for Djiboutian side Arta Solar 7.
Before, he has played for Le Havre, Malaga,  Espanyol De Barcelona and Fenerbahçe.
Kameni at 16, became the youngest footballer to win an Olympic gold medal in 2000, as first choice keeper of Cameroon.
Kameni was part of the national team squads at the 2002, 2004, 2006 and 2008 Africa Cup of Nations. Apparently, he has 2002 AFCON under his belt.
He won Best African Goalkeeper in 2006-2007. He  was first choice keeper as Cameroon finished as runner-up in the 2003 Confederation Cup.
8. ITANDJE (2014)
Charles Hubert Itandje was born on the 2nd of November 1982. He played for Lens, Liverpool, Kavala and Atromitos Paok and Versailles before retiring.
Itandje had represented France on several occasions, making his debut against Yugoslavia in November 2002 before opting to join his country of origin, Cameroon.
In October 2010, he was cleared by FIFA to represent Cameroon after expressing his desire. Considering his 'palmares', he became the first choice goalkeeper for the squad.  His time is popularly considered as underwhelming.
In the 2014 World Cup,  Cameroon lost all games against Mexico, Croatia and Brazil.
9. FABRICE ONDOUA (2014 – present)
He was born on the 24th of December 1995 and plays for FK Auda in Latvia.
In August 2014, Ondoa was called up by Volker Finke to represent Cameroon against DR Congo and Ivory Coast.
He made his international debut, starting in a 2–0 win against DR Congo. Although his first AFCON, 2015 was a disaster, as Cameroon was eliminated in the first round, he bounced back in 2017. He was phenomenal during the 2017 AFCON and thrived to win the finals against Egypt.
He was man of the match in Cameroon's quarter-final win over Senegal, in which he saved the decisive attempt from Sadio Mané in the penalty shootout.
10. ANDRE ONANA (2016 – present)
André Onana was born on the 2nd of April 1996.
He was called up for Cameroon's friendly against France in May 2016.
Onana made his international debut for Cameroon in a 2–1 friendly win over Gabon in September 2016. He was first choice in the 2021 Africa Cup of Nations which ended with a third-place trophy for Cameroon.
Onana is considered a 'sweeper-keeper'. He is very calm and confident. He takes risks to get much further forward, where he tends to use shorter passes from the middle of the pitch. He won Best African Goalkeeper in 2018.
New Generation
 Epassy Devis
Omossola Simon
By NexDim
#nexdimempire