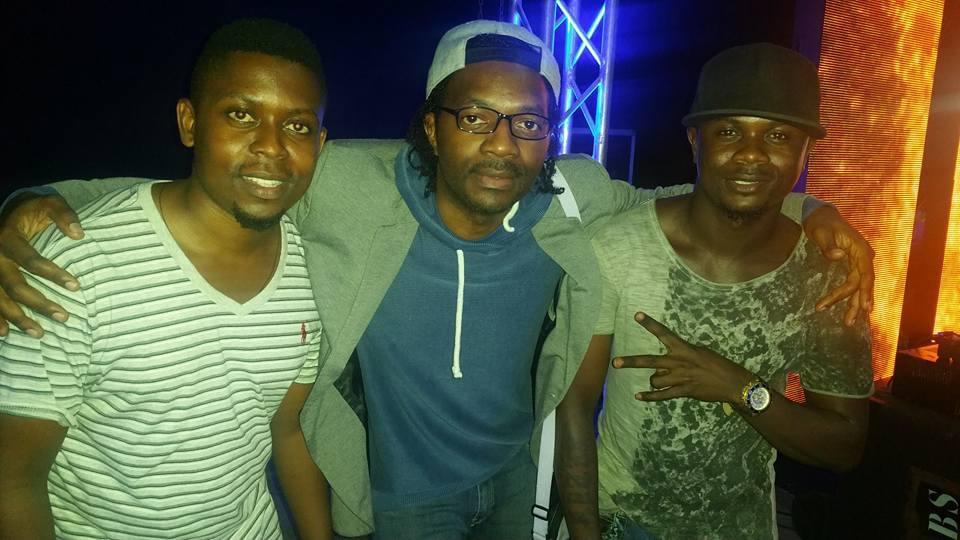 A popular adage says a picture is worth a thousand words. Evidently, this photo conveys multiple emotions exuding from a heart-breaking tale of severance of two monumental Cameroonian music groups.
Cameroonians are yet to digest the bitter fact that Auguste is no longer part of X Maleya while Ridimz comprising Kezzy and Phillbill is disbanded.
Both groups previously had symbiotic relationship which morphed Cameroon's music landscape.
2015 was a milestone when Ridimz and X Maleya groups collaborated on "Dancia" .
It had hitherto been a successful array of hits from X Maleya produced by Phillbill and mixed/mastered by K-Master-K .
"Doumba" which remains one of X-Maleya's biggest hits was crafted by the Buea-based duo.
"Me & U" by Ridimz was released in August 2016 in partnership with XM Music.
A lynchpin of this collaborative movement was Prince Mykel Enobi , a daring industry sage.
He became the manager of the cracker-jack Cameroonian music duo Rythmz (Ridimz) in 2012. He was at the helm of No Hitz No Records which also had artists like Daphne, Ciana and Marvin Dice.
Under No Hitz No Records Daphne debuted with a soothing tune titled "Get There". Marvin Dice kicked off with "Massiko" and Ciana can be remembered for "Ozeile Nchiengo'.
The label was fast-growing and looked propitious until Daphne joined Stevens Music, Ciana later threw in the towel, Marvin Dice went on a hiatus and Ridimz became the proverbial "water go leave stone" . The stone finally eroded in 2022 after their breakthrough hit "Shabasiko".
Prince Mykel Enobi parted ways with No Hitz No Records in 2016 after successful projects "Me & You" and "Madame Tout le monde".
RIDIMZ SEPARATE
Ridimz have always looked indissoluble as a producing duo, working together in the past as "Itz Phillbill" and "K Master K Mix". They looked inseparable as a singing pair. At the break of their enormous success with "Shabasiko", the group disbanded due to unjustifiable skirmishes.
AUGUSTE DISCARDED FROM X-MALEYA
In 2018, when rumours of their imminent separation filtered on social media, Roger debunked the news and confidently said the group will remain united and never split. It seemed there had been unresolved issues between the members which made their relationship sail on turbulent waters.
Roger had probably decided to keep their feuds under the wraps, away from media radar. But it became evident that, Auguste is no longer a member of X Maleya.
However, in an interview with Eric Christian he stated that he is open to dialogue and willing to rejoin X-Maleya.
Ridimz established a love-mark in the Cameroon music ecosystem as Phillbill and Kezzy while X Maleya established theirs as Roger, AUGUSTE and Hais. There is evidently that vacuum in the music industry that needs to be filled by burying the hatchet, making peace and reuniting.
#nexdimempire