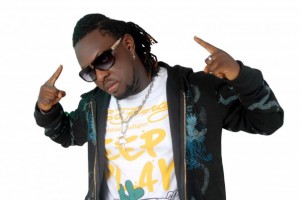 Nigerian superstar Timaya, and a host of other acts like Anogiri,KC Presh,Eddidy and Iyanya (winner of  MTN Project Fame)  will be taking South West Cameroon by storm with two major shows.These concerts will take place at the Molyko Sports Complex Buea and GTTC Hall Kumba on the 13th and 14th of November 2009 respectively.This event is organized by DKL EVENTS Nigeria that extended its branch to Buea,Cameroon this year.
Award winning artist ,Timaya since the release of his first album has been making great waves in Cameroon.Approximately every home in Anglophone Cameroon has a copy Timaya's CD.
Timaya was born in Port-Harcourt, Rivers State in the Southern part of Nigeria. He started from Port Harcourt. While in Port Harcourt. As a teenager in Nkpolu Oroworukwo Secondary School where he won so many awards in inter-school competitions and moved to Lagos to stay with his elder sister at his parents request so as to complete his secondary school education. He schooled at Ikeja High School in Mafoluku, Lagos. At one time in Mgbuosimini he was spotted hawking plantain.
Music career
He started out with a couple of early collaborations with some underground artists and was a back-up singer for Eedris Abdulkareem. He featured in an unreleased video by UDX, a rap group based in Lagos. Namse Udosen was one of his early mentors in the music game back in Lagos in the early 2000s. Namse Udosen (AKA Menthol X) laced the rap verse on Pomporo, a hit track on his debut album "True Story".
His first major hit was the song "Dem Mama" an account of the 1999 destruction of Odi, a riverine community in the oil producing Niger Delta, by soldiers hunting down militants whom where alledged to have killed 8 policemen. The village was burnt down and numerous people killed. Timaya bravely tackled the topic years later and won instant street credibility for his boldness.
Timaya is also called the Egberi Papa 1 (the peoples town crier) of Bayelsa or Mr. Timaya. Timaya is currently the rave of the Nigerian music scene, with a lot of other musicians interested in doing collaborations with him. Timaya is for collabo because he says that collabo is like promo. That is, collaboration promotes a musician. He has collaborated with J Martins and P Square on the J Martins award winning Owey (Which Kin Life), with Kefee on Kokoroko, Spyder Man and others.
This event will be officially sponsored by MTN CAMEROON and MUTZIG
Contact info:Eni Angwi 74857262.99941141