Behyia Leonard Bruce
is one of Cameroon's most prominent entertainers who carved a niche and made greatness out of it.He is currently the Deputy station manager of CRTV 105 FM , Douala and an international impresario.He is a quintessence of an idealistic and categorical person and an outstanding figure who has greatly induced the trail of entertainment in Cameroon.
NexDim

caught up with Behyia at his "bureau" at CRTV Bonanjo for an up close and personal interview.This interview finally took place at Glacee Moderne, Akwa, where i was  offered a luscious cup of ice cream.Hmmmm! it tasted real good.
Nexdim:
For the years you have spent in the entertainment industry. What impact have you made so far?
Tonton Behyia:
"From the last 25 years , i have been involved in all facets in entertainment from conceptualisation,production,advertisement,promotion,music distribution and sales. I can say   so far, I  have aided to bring to the spotlight some Cameroonian musicians like Njohreuh,Sergeo Polo,Longue Longue,Nguea La route and many more.I've groomed so many presenters in Cameroon  whom i'll not like to mention here. Some are unappreciative though.What i currently do is ravalorising artistic talents.I am presently planning to a take tour with X Maleya in East Africa,West and Southern Africa"
Nexdim:
Can you explain to us the nature of your professional and business commitments?
Tonton Behyia:
"Apart from being a radio presenter, I basically do international VIP impresario. I get international contracts for weddings,from automobile companies , car launch ceremonies,mobile companies and money transfer services. I'm also a voice scout. I buy and sell voices. I have been offering ad services to mobile companies like MTN , Orange Cameroon and money transfer services like Western Union "
Nexdim:
what is your impression about people who passed through you craving for fame?
Tonton Behyia:
"There is a vast list of people whom i have mentored to be entertainers and its been so shameful. They struggle so hard to be famous. I do not want to mention their names. They are a set of people who dare into entertainment for the sake of the fame and not for the game. They can't even afford to pay their house rents and leave in despair. If you are into entertainment for the sake of the the game,money will follow all the same".
Nexdim:
Cameroonians say you talk a lot. What's your opinion about this?
Tonton Beyhia:
"They are simply dull if they say so.I'm a journalist. If a journalist doesn't talk he'll certainly remain poor for life. I have been able to talk and capture people's attention with the words I deliver . If people listen to me all the time it means they love what I speak which is the painful  truth. And anyone who doesn't adhere to the truth or resists it is evil. So i am not ready to stop talking and remain poor. Idiot!"
Nexdim:
what is your muse in life?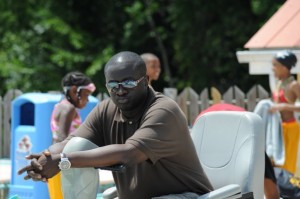 Tonton Behyia:
"my main strength comes from the fact that i have plenty of enemies. I am an outspoken and categorical  person who doesn't conceal the truth. My enemies are the people who foster harmful designs against  me and are the thorns to pierce me when I fall. I always work hard to challenge my enemies. Secondly,my wife and children. They enormously inspire me positively and enable me nurture that competition from within. Like I used to say 'Everyday i try to make life less of a mess,being the best of my stress".
Nexdim:
So many Cameroonians I've come across say you have ravenous appetite for women. Is this impression true?
Tonton Behyia:
"It amazes me.Why don't people think it's the other way round?. Why don't they think I'm rather loved by women?.I am that kind of person who makes people wonder how a handicapped person can turn the story around in a society where it is considered a taboo to be handicapped.I make beautiful girls trip. I now bear so many names ;some call me the "Oracle",some call me the "Chief Priest" just to mention a few. Please i would like to make everyone know that  , I'm happily married with two kids and i have no girlfriend"
Nexdim:
How can you explain your significant rise to fame?
Tonton Behyia:
"I am not famous. My charisma and valour imposing myself in my community is natural. I have never sought for fame. I have been a little present in where i needed to be. I don't think up to 60  million people know me across the world. It however feels good to be known in my country as I've been enjoying some favours like free hotels,free airtime credit and other free offers.When i'm known by a population of 60.000 million people all over the world,then i can start talking about fame"
Nexdim:
You have been having expeditions out of the country. What often takes you out of Cameroon?.
Tonton Behyia:
"Basically business missions and visits.I've traveled to countries like Kenya,Nigeria,Dubai,India etc to do ad voices for companies,attend music festivals and do impresario.I have also been to the US but unfortunately my trip has been restricted to some cities like NYC,Washington DC,Colorado. Still Hoping to visit ATL some day.What makes me sell is the fact that i am able to entertain my audience in english and french flavoured with some comic appeal.I also travel out of Cameroon sometimes with my family to enable my kids discover other countries around the world"
Tonton Behyia:
"To me ,the entertainment industry shall attain a good standard when urban music takes over Cameroon.The problem lies on the fact that our artists are not daring and venturesome. We have that class of youngsters who make it big at the international level like Bright Phase,Zinnia but lack credibility at home . The DJs are the ones who control what we dance to but they haven't played their role efficiently to make our music breakfast music. They are supposed to impose to the people what they need to stick to.Well, rating it at this level,i think it is impressive. Cameroonians have the potentials.That's reason you can see world top notch artists can copy from a Cameroonian musician like Manu Dibango.Let me seize this opportunity to clarify that

"Zangalewa"

is not the original composition of the Cameroonian group

ZANGALEWA

.The rhythm has been a traditional parade song used by the Cameroonian military base for a longtime. Unlike artists like Manu Dibango,Richard Bona ,we don't give ourselves real value.Roles need to be distributed.I dont think you will ever see Richard Bona distributing  his music himself or going down to the streets to fight for reason that his music being pirated.I think there must be a laid down structure with roles professionally dispensed".
Nexdim:
Who are your role models?
Tonton Behyia:
"My late mum Nancy Asopo and my late uncle Njang Jonas Ebot.They were two selfless people.I 'll like to be like them in my next life.That's at the family level.At the intellectual point of view,Mark Zukerberg ,an American entrepreneur best known for conceptualising the social network Facebook.He is someone who conceived an idea and brought it to reality"
Tonton Behyia:
"I dont think i have plenty of duties and commitments in my life.My mum did it all for me and i have no problems.She built a house in Kumba. I don't think i will ever buy land or build a house in my life.I live a happy and comfortable life .All i do now is make my children discover more countries in the world.I"m sure I'll pay house rents till i retire.If the future is bright,i believe one of my friends will offer me a house".
Nexdim:
How do you manage your job at CRTV and impresario?
Tonton Behyia

:
"I have worked with the CRTV for 8 years and i don't see the job challenging enough.It's just the same daily routine.I needed something that can add value to life and make me nurture new concepts that do not only entertain but  educate to the masses.I now run a programme I dubbed

"Bouillon Martinale"

.In English "Morning pepper soup" which is a Sunday breakfast show .It's entertainment,education,information,subject of the day spiced by the guest of the day .Last week my guest artist was PSquare.I'll be having more international and national artists like Bright Phase,Luxland,Zinnia,Steveslil in subsequent editions".
Nexdim:
T
ell us your favourite meals?.
Tonton Behyia:
"Kwaccoco Bible,Sleeping Groundnut soup and garri.You add okro for the groundnut soup for morning".
Nexdim:
what genre of music often plays in your car?
Tonton Behyia:
"Hardcore reggae,old school, all genres of urban music.I also love listening to traditional rhythms like from Tata Kingue.I imagine a fusion with slow jazz music.It's a complicated desire".
Nexdim:
It was nice having you on Nexdimempire.com
Tonton Behyia:
"pleasure is all mine"