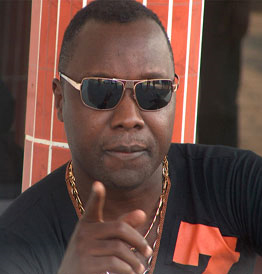 Petit Pays was the most popular  Cameroonian Musician in the 80s and 90s and he keeps  making hits in the 2000s. He has massively influenced the trend of music in his country especially proliferating the unique  "Makossa Love" and enabling many artists to start a career like Guy MANU, Philippe MILOKO, Samy DIKO, NDJOREUR, NGUEBO solo, PAKITO, Sylvain NGONDI, Xavier LAGAF, XIBI de YAOUNDE, SAMANTHA, NGANDO CAIMAN, GUIZO des AMOURS, LONGO LAGRIFFE, MATHEMATIK, 007, MONNY EKA, LE MARQUIS, etc…
He was born in the month of JUNE , reason why NEXDIM decided to profile Cameroon's biggest celebrity.
Petit MOUNDY Claude Adolphe was born on the 5th of June 1967 in Douala of a middle class family. Son of Marthe and ANDE'E Grand MOUNDY, he was brought up entirely by his mother. He was  named "Petit" MOUNDY Claude Adolphe.
"Moundy" in the Douala language literally means "PAYS" in French, linked with the man who made himself a nickname.
He has created a musical concept of his own, "Makossa-love"  which has established him as the biggest Star of the century in Cameroon and beyond.
He  is rightly called the "King of Makossa-love, Avocat defenseur des femmes , Turbo d'Afrique, Rabba Rabbi "
Apart from Manu DIBANGO , he  is the only artist from Cameroon who has an impeccable reputation recognized throughout the entire African continent and reached his peak after 10 years of musical career.
Petit Pays  spent his entire childhood in Bon'edjan,  Bonakouamang, Bonamouti ( Akwa in Douala with his friends and brothers Alain Njoki, Geog'man (G. Dipital) Dikondo Yaba, Moundy Sword, Pepe Nde, Same-François Eyango Awa Elimby, Fanfan, Dan Issedou Kuo,  Doumbe, Jean-François Dissake (jeff) Sisaroma, and many others.
As a teenager, he was already a "phenomenon" . He was very quickly pointed out during football tournaments in cadet category as very good technician which for years earned him the nickname "Roger Milla".
At This time, he thought of  commencing a brilliant professional football career, but his passion for music will prevail widely.  After his primary education, he continued his secondary education at CPFO II . He began seriously taking guitar lessons with  Marco Mbella  "l'homme avant-gardiste de sa  generation."
Petit Pays stayed away from school spending sleepless nights to rehearse vocals and instrumental interpretation of popular songs and especially listening to the advice of  Emmanuel EBOA LOTTIN.
Against all odds, despite family pressure, Petit Pays  gradually abandoned his studies to dedicate himself to his future musical career. In the 80s, finding a local producer was an incredible challenge for all artists who were forced to emigrate in order to achieve their dreams, here is an additional difficulty that presents itself to him.
In 1985, with the help of his understanding mother and his uncle Bernard JABA, the future of the African music star flew to Paris, ostensibly for him to study law.
Upon his arrival, he sought for a producer.  He had a unique  musical philosophy  which was not comprehended at that time . He  started  doing performing popular songs with the aspiration of getting a  good producer: "I will show that I'm talented enough" was his goal.
In 1986, during the Chirac government,  with Charles Pasqua as interior minister, the official studies of Petit-Pays stopped. He finds himself  in handcuffs on an airplane in Roissy bound for Yaounde, Cameroon.
His expulsion from the French territory rather widely expanded his repertoire of songs , so he composed a very rhythmic song titled "ca fait mal" in which he describes  his administrative detention and deportation. Eyabe KWEDI "EYAMB'S PRODUCTIONS"  accorded confidence in Petit Pays and produced his first album  in December 1987 and thus he began his musical career.
A year later in December 1988, he recorded his second album "Ancien Parigo" which established him as a young talented Cameroonian musician  appreciated by the majority of his compatriots from the North to South with songs like  "Mumi" and "Salamalekum" .
Very proactive, he did a lot of free services for associations and Afro-Caribbean clubs to confirm his talent and enhance his brand awareness in the Cameroon and  Paris market.He released his 3rd album called "Trouver la vie" in 1990.
Petit Pays having conquered his homeland, had the ambition to conquer the whole of Africa, Europe, North America. He started Makossa Love and  created his orchestra the "Sans Visa"  in remembrance of the year 1986.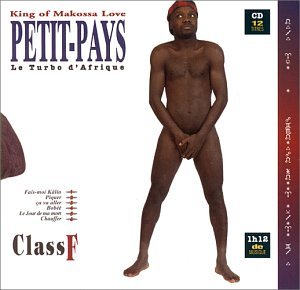 Manu Lima became his new music programmer, and hooked up with  Alain NDJOCKE and did his 4th album  "Les morts ne sont pas mort EYAMOYO" in March 1992 that went number 1 in music charts in Abidjan, Lomé, Ouagadougou, Libreville, Niamey …) and the Carribeans were madly in love with the song "ca ne va pas"
His musical tour with his band became very frequent in Africa, America, Caribbean, Europe, Canada,  as the demand became more  explosive.
He  finds time to compose his 5th album "Avant Gout" in April 1993 and coronates himself as "LE TURBO D'AFRIQUE".
Songs  such as "Muléma, c'est bon and Mumi" were widely played. This album was top of many top radio hit parades. He exploded with  "NIOXXER" in 1994 and "Korta" in 1995.
"Le Meilleur des meilleurs" was released in March 1995.
Even kids sang the  refrain ""A Abidjan ça nioxxe, à Etoudi ça nioxxe, nioxxer, nioxxer!
Petit Pays' music  is unavoidable. His unique and ideal style has become a reference in African music.
He continues to help young people to develop their careers in music. Reason why he started an orchestra, "Les Sans Visa".
In May 1996, he released his 7th album "CLASS F CLASS M"  which was the  most mediatised of Petit Pays' albums. In less than a week more than 50,000 tapes were sold in Cameroon, "Du jamais vu" .
He was declared "wanted" by the Cameroonian national security because he was enacted as a "Fool" and because he violated modesty with the cover of this album. He hastily left Cameroon, and his  mother was imprisoned. All critics were desperate.
Petit Pays lets the tornado to pass away before returning to Cameroon. This time, the big news was "Petit Pays is crazy, he walks naked , tied at the Kribi market" .This became the main theme of his second album (double LP) "Evangile I and II" in September 97 and "Le CV de Petit Pays"
Over 10 years , Petit Pays has  continued to rise producing more albums some with "Les Sans Visa"
In 2007,he released one of his most controversial albums "Frotambo" which has the song "Pedes". He literally acknowledges in the song is is a homosexual.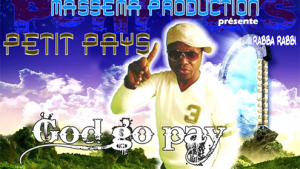 In 2009, Petit Pays surprised Cameroonians as he was seen at T.B Joshua's Synagogue Church of All Nations in Lagos on Emmanuel TV. He declared to has given his life to Jesus and born again. Since then Petit Pays has released "Caiman" in 2009 elected President of CAIMAN football club in Douala and "God Go PAY" in 2010.
Discography
1987: Ça fait mal (Eyab's Productions EP 010)
1988: Ancien parigo / Salamalekum(Eyab's Productions EP 015)
1990: Trouver la vie(TJR AT 087)
1991: Les manières de la vie(Local cassette)
1992: Les morts ne sont pas morts(Milan BMG France 873043)
1993: Avant-goût(Melodie 08619-2)
1994: Andy – Best of(Eyab's/Melodie 08660-2)
1994: Nioxxer(Local cassette)
1995: Korta – les dignitaires(TJR CDAT 137)
1995: Le Meilleur des Meilleurs(Melodie 08683-2)
1996: Classe F/Classe M(Sonodisc 83232)
1997: Le CV de Petit pays(Blue Silver 50654-2)
1997: Evangile I & II(Sonodisc 83211/83212)
1998: Le son d'amour(Septocam/Sonodisc 83218)
1999: Esuwa(Eyab's Productions/Melodie 08980)
1999: Coup d'État(JPS Production CDJPS 053)
2000: Bisou sur la tomate(Fotso Kamgue FK510)
2001: Ya pas match(Sonima)
2002: Maestro(JPS Production CDJPS 188)
2002: L'amour dans l'avion(Omega Production/Sonima SMCD 1414)
2003: Ennemi Public(Omega Production/Sonima SMCD 1441)
2003: Dieu le père(B.Mas BMP000176)
2004: Embouteillage(Omega Production)
2005: La Monako(RTM Prod)
2006: Ekamofock(Omega Production)
2007: FROTAMBO(Lavisa Productions)
2008: FIKO FIKO(GB Productions)
2009: Caiman
2010: God Go Pay