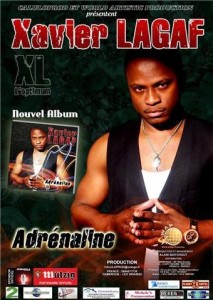 In the year 1992,  Xavier-Lagaf 's father  lost his job at the BATA as accounting manager. Obliged to pay for his studies alone, he decided to begin with small jobs from neighborhood to neighborhood.
He trekked about ten km each day from his  place of residence to Lycee Deido where he was student.
He loved to sing in class  which was much pleasure for  his classmates.
In 1993, Xavier saved money and bought Petit-Pays' album titled "avant gout'' .His aspiration was to sing like Petit-Pays while improvising.
In 1994, Xavier craved to expose his talents. He decided t0 be part of the Music Club in Lycee Deido.
In 1996,  Xavier became the interpreter of Petit Pays' songs in the school cycle together with Monny Eka.
In 1997-1998, Xavier not seeing a possibility of joining Les Sans Visa de Petit-Pays decided to continue pursuing his studies until SAMY DIKO released his debut album which made waves in Cameroon. He was lucky to meet Samy Diko and became his back up vocalist.
1999 was his year of glory, Xavier decided to audition at Makepe to become a member of  Les Sans Visa which turned out positive.
He released "Je vais me remarier" which had enormous success around Cameroon.
Songs composed by Xavier Lagaf
WALLA'A(malondo magoulè)
ONGWANE MBA
MALEA(ROBOCOP)
BISOU SUR LA TOMATE with FEELINGUEE HIROSHIMA
L' HYMNE DE PETIT PAYS performed by LES SANS VISAS before the start of every show.
JE VAIS ME REMARIER
BONGOLO- BONGOLO improvised during a concert and included in the album by public demand.
EYO'O
ISSONE
BEMUNE
NA  KOUSSI PERFORMED BY  SAMANTA FOX
BEFORE
AFTER