Nexdim caught up with Itambi Delphine, a Cameroonian film producer,actress and script writer for an exclusive interview.Let's discover!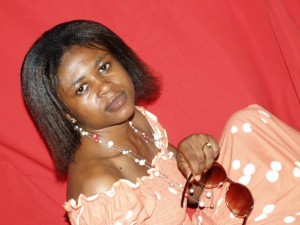 NexDim:
Can you introduce yourself to us?
Itambi D: "Well I'm Itambi Delphine Akwi. a young film producer, writer and actress. I'm from the Northwest region , the 5th out of a lovely family of 6 born to Mr and Mrs Itambi Simon of Oshie"
NexDim: When did you develop passion in film production,acting and script writing?
Itambi D: "That's far back as in my childhood. I remember developing from a story writer, to attempting to write novels and subsequently writing movies in 2006. Then i performed my first short play titled "public disgrace", and few others"
NexDim: NexDim Empire  learned you studied Chemistry in University of Buea with a bachelors degree. How do you merge that with your movie career"
Itambi D: " I was expecting that. Well it wasn't a problem while i was at the university as i am good at managing my time. Chemistry was there but my passion was movie. I think it instead helped to always keep me busy and focused"
NexDim: What are the projects you have initiated so far?
Itambi D: "Well I've only produced a single movie titled  "A Woman's World" which was shot ending 2008 and first premiered at Seme Beach hotel in March 7th 2009 and later premiered  in Los Angeles in October  24 2009.Copies will be released end of this month in Cameroon"
NexDim: What are the difficulties you face in the movie industry in Cameroon?
Itambi D: "the first problem is lack of sponsorship. I think Cameroonians have not understood the role of the film industry and what benefits  the country can derive from this sector of arts. This makes it if  not impossible but difficult to carry out film projects as much as i would or producers will love to. Also, the lack of professionalism among film makers makes it difficult to sometimes bring into life  the original concept of stories to the audience. Therefore i strongly think film makers need to be exposed and attend as many workshops as possible to  do real cinema in Cameroon"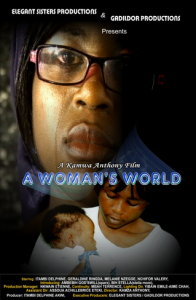 NexDim:
With the infiltration of Nigerian movies. What effect does it bring to your originality?
Itambi D: "mmmm well i must say Nigerian films have almost no defects on my production and upcoming ones. This is because as much as Cameroonians are kind of addicted to these movies i think it's because they have not yet been convinced enough by Cameroonian producers. When they see good stuff they will eventually fall in love with it. All i believe is that a good movie is a good movie and everyone loves good things. Secondly,i will say me as a person  have my own philosophy about movie and what kind i want to produce. I produce a movie which  i  believe is good and educational without copying from anyones culture. To me,the more a movie appeals to no peculiar people the more  its educative"
NexDim: What is your next project?
Itambi D: "well,i cant really disclose for now as am still putting things together but hopefully i will be carrying out a next project by mid 2010"
NexDim: Who is your role model or the person you admire most  in the film industry?
Itambi D: "mmmm i love Jennifer Aniston, and Genevive Nnaji. Was forgetting Sharon Stone's name" (laughing)
NexDim: Who would you like to collaborate  with in future?
Itambi D: "Stephen Spielberg. On set"
NexDim:How do you deal with piracy?
Itambi D: "well have no movie in the market yet. So when i release soon, i will be able to answer that"
NexDim: Who are the people you think are dynamic in the Camer movie industry?
Itambi D: "Mr Kamwa Anthony.He is a director, Agbor Gilbert, a producer, and Neba Lawrence, a director too.Actors like Zoneziwoh , Geraldine Ringnda, Melzet, editor like Achille Brice Eteki, and camera operators like Njukeng George and Mr Gobina Samson.Well it's obvious i mentioned mostly about the people I've worked with"
NexDim: What's your favourite song?
Itambi D: " Keshia Cole, "sent from heaven"
NexDim: What's your favorite Cameroonian dish?
Itambi D: "Fufu corn and vegetable"
NexDim: Are you married?
Itambi D: "no. Single"
NexDim: Thanks enormously for according www.nexdimempire.com your time and patience and keep us abreast with all your pending projects.
Itambi D: "Thanks . It was a pleasure"
Trailer of  "A woman's world"
SHE OPEN TO WORK WITH ANY SERIOUS ASPIRING INDIVIDUAL.
Contact:  (237)75567109
Email:itamsdelit@yahoo.com