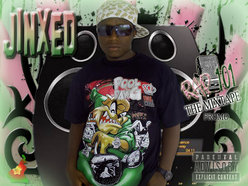 JINXED is another remarkable Cameroonian artist. The name "JINXED" comes from a dictionary word meaning "bringing 2 much bad luck". This is one of the best rappers around  with a spell-binding and ear- smacking mixtape of 16 tracks titled "RAP 101". From the title "RAP 101" ,you can tell it is a course to educate rappers. Mainly, the mixtape contains rap education to others who are messing up  rap today. He raps in his  track titled "JINXED'':
"….2 MUCH INSANE ACCLAIM 4 FAME BY LAMES IN DA GAME/
A SHAME SAME PROCLAIM THEY FLOW BUT FLAME/
HOW COME I DON'T EVEN KNOW YOUR NAME/
NO HOT TRACK, RAPPERS LIKE U DON'T FIT IN DA FRAME"
He has a track in which  he does not only rhyme words but  rhymes words making lines with same letters. Check this little extract from his A-Z skit
A
AWFULLY,ASSASSINS ADORE AUTOMATIC ARTILLERY
ABSTINENCE AVOIDS ALL ACQUIRING AIDS ACCIDENTALLY
AGITATED ARABS ANNIHILATE AMERICANS
ARROGANT AMERICANS ASSAULT N ABUSE AFRICANS
B
BLACKS BATTLE BANKRUPTCY BRILLIANTLY
BONAFIDE BALLAS BALL BY BUILDINGS BRAVELY
BANDITS BRUTALIZING 4 BIG BUCKS
BRUTAL BLACK BROTHERS BLEEDING BIG BLOCKS
From his lines we do not doubt that 'Jinxed' is a lyricist and 5 star artist coming up. Unlike other rappers who are into using obscene languages, Jinxed all through his 16 track mixtape does not say a single obscene word. His flows are fabulous and his word play and rhymes are so original. You would think you are reading to a rhyme dictionary.
Music, he says is his life and he listens to music and pens down lyrics all the time.
He narrates that his love for music started from the baby ages and he has and would always be a number fan of  Pop legend, Micheal Jackson. His inspiration comes from artists like Papoose, Nas, Jay z, Cassidy, Fabolous and many more. He is a a graduate from the University of Buea.
Right now,Jinxed he is working underground and penning the sickest rap bars. You can listen to his tracks on
Email :mdaraj50@yahoo.co.uk
http://www.facebook.com/profile.php?id=690738823