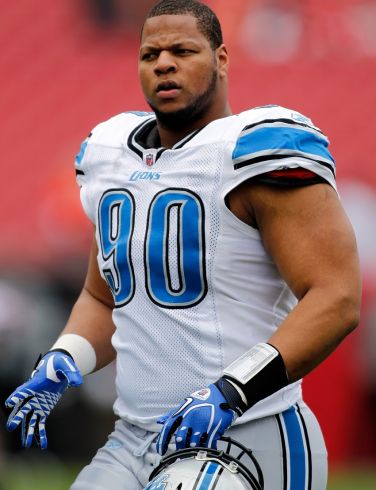 Ndamukong  Suh was born on January 6th 1987 in Portland , Oregon to a Cameroonian father , Michael Suh and Jamaican born mother , Bernadette Suh nee Lennon. He  is 6ft 4 in (1.93m) and weighs 139 kgs.

Ndamukong  is an American football defensive tackle who plays for Detroit Lions in the National Football league (NFL) . Rated as the one of the most decorated defensive players while in college his talent makes other pros bow in awe. 
Suh's parents didn't want their only son playing football due to the game's violent nature, and instead steered him toward soccer. That strategy worked for a short while, until Suh's naturally aggressive tendencies got the best of him. "I got a lot of fouls," he recalls. "That's kind of the reason I moved away from soccer. I got too many red cards."
http://www.askmen.com/celebs/men/sports/ndamukong-suh/
He started his football career at Grant High School in Portland , Oregon where he earned Parade All-American Honors and voted 2004 inter-scholastic League defensive player of the year and First Team all state Class 4A defensive.
He indulged into college football as a freshman in Nebraska in 2005. In 2006, Suh played all 14 games as defensive lineman which earned him Freshman All-Big 12 honors from The Sporting News . Later in 2008, he still earned a First Team All-Big 12 honors being the first interior Nebraska defensive lineman since Steve Warren in  1999.
In 2009,  he received an MVP honors , played all four quarters against Arizona in the 2009 Holiday Bowl , aiding the team to record its first Shutout in Holiday Bowl's 32 year history. He was named as one of the finalists of the Walter Camp Award, The Outland Trophy and Lombardi Award .
On December 2011, Suh was named winner  of Chuck Badnarik Award during ESPN College Football Award Show as best Defensive player  and grabbed the Outland Trophy as best Defensive lineman. Suh was equally named AP Player of The Year in 2009 , making a hallmark as a the first defensive player to receive the award in its history.
He was considered as a great prospects available in draft  in the NFL by ESPN. Draft analyst Mel Kiper Jr describes him as "maybe the most dominating tackle i've ever seen in 32 years" and later correctly projected Suh to be drafted for Detroit Lions.
On August 2010, Suh agreed a $68 Million contract with $40 million guaranteed. He was picked as a starter for Pro Bowl becoming the first lions rookie since Barry Sanders.
Suh has been  named to the All-Pro Team since January 25th 2011 , also named Sporting News Rookie of the year, Pepsi NFL Rookie of the year, and AP defensive Rookie  of the year.
Before drafted for the NFL , he had signed an endorsement deal with Nike, Subway, Dick's Sporting Goods, Omaha Steaks and Chrysler.
Worth-noting, his older sister Odette Lennon Ngum Suh plays for the Cameroon's women Football team.
Picture credit : askmen.com