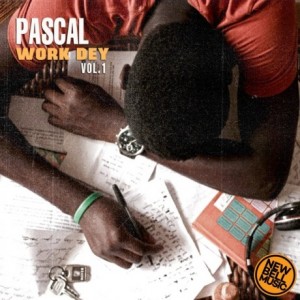 Pascal releases his first EP Work Dey Vol. 1. In this 5-track EP, Pascal gives us more of the stellar Pidgin flows we've been asking for. Full of punchlines, wordplay, and hooks,  Pascal proves he's skillful on the mic with stories to tell. The production features Le Monstre's signature fusion, with Kiloh producing "Tori Pt. 1" and co-producing "Mon Nom," and Chavez co-producing "Epic Ish." Le Monstre's electro-trap influence is evident on Work Dey Vol. 1, as you hear vibrant, heavy bass; bright synth sounds; industrial accents; and distinct Cameroonian/African percussion patterns and harmonies laced throughout. The EP also features a full cast of supporting artists, with Tilla, Reniss, Jovi and Bisha contributing on several tracks.  Rapping in Pidgin, English, French, and occasionally Ngemba, Pascal touches on setbacks/current life situations, addresses career critics, portrays lyrical dominance, introduces himself, and tells a brief story about his early life in the rap game. Pascal proclaims that for any other upcoming artist to get to the level at which he is currently on, the artist has to put in a lot of work, which is why his first EP is titled "Work Dey," which in Pidgin means "work in abundance."
The EP contains the recently released "Epic Ish ft. Bisha and Jovi" and his first single "Mon Nom ft. Tilla," and contains three new tracks.
Pascal featured on the following several projects including: New Bell Music's collaborative EP Lord Have Mercy, Jovi's Kankwe Vol. 2 EP, Reniss second EP Milkish, Shey's first EP Tapsi, and the video for Tata's first single "Contri Boy Remix."
Listen to Pascal's EP Work Dey Vol. 1 below!
http://newbellmusic.com/release/work-dey-volume-1-ep/