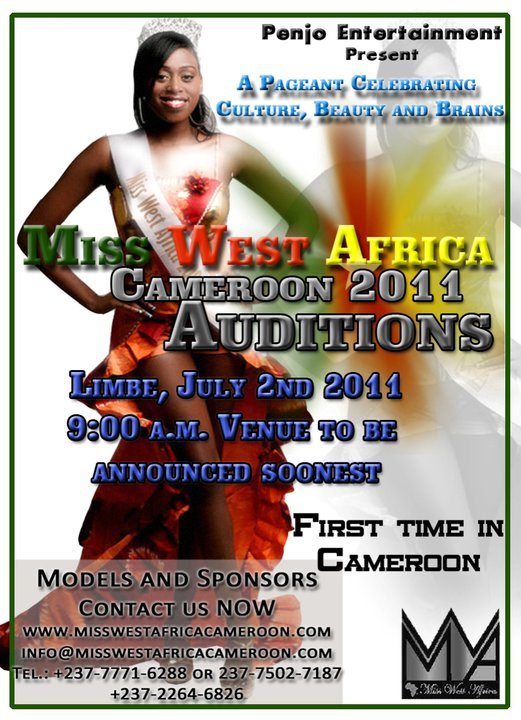 Auditions for Miss West Africa Cameroon shall take place on July 2nd  2011 at Seme Beach , Limbe.
Miss West Africa Beauty Pageant is an annual international event with contestants from Cameroon, Gambia, Ghana, Guinea Bissau, Sierra Leone, Nigeria, Niger, Ivory Coast, Senegal, Mali, Cape Verde, Liberia, Burkina Faso, Benin, Mauritania, Cape Verde, Togo, and Guinea. It's a pageant where West African models showcase the rich cultural values of their respective countries.
Miss West Africa Cameroon is a part of Miss West Africa International.
For the first time in the Cameroon, Miss West Africa Beauty Pageant 2011 is brought to you by Penjo Entertainment, a Cameroonian reputable company that promotes modeling and entertainment .
Miss West Africa Cameroon is aimed at promoting the role of the female in African Tradition, as well as West African beauty, culture and tourism. Their objective is to diffuse cultural barriers and encourage stronger unity amongst the western region of Africa.
The 1st Miss West Africa Cameroon 2011 Finals event will be on Saturday 30th July 2011.
APPLY !!!!!!!!!!!!!
VISIT http://www.misswestafricacameroon.com for more info.