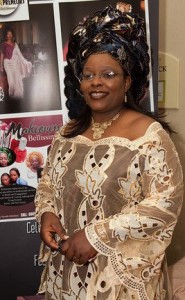 Born in Cameroon, Lady Kate Njeuma is a charismatic, multi-faceted and dynamic woman. She attended Saker Baptist College, Limbe and graduated in 1987. Later moved to Baptist High School, Buea where she obtained her Advanced Level.
After graduating in 1989, she moved to the United Kingdom to further he studies. She attended Victoria University of Manchester where she obtained a Bachelors degree in Economics and Social Sciences in 1994.
Kate Njeuma later switched to study Professional Nursing at St Georges Medical School in London.After graduation, she worked as a nurse for a couple of years and later went in for a one-year  post-graduate programme at Southern Bank University where she obtained a Post-graduate Diploma in Health Education.
She moved to the USA in 2002.
Lady Kate Njeuma is an irresistibly skillful and charismatic personality. She is the founder of the Miss Africa USA Scholarship Pageant,
-Founder of African Women Development Foundation, USA
-Founder of Shrine For Africa-A Film Production and consulting Firm
-Member of Clayton County Chamber of Commerce
-Founding member of All Cameroonian Cultural and Development Association, Georgia.
-Founding member of the dynamic alumni women\'s Group EXSSA Georgia
-Founding member of African Sisters for Information Knowledge and Empowerment (ASIKE), Georgia
-Events Director for African Network
-Honorary member: Cameroonian Women of Georgia Association (CWAGA)
A noteworthy accolade for Lady Kate is  "Dream Kweens" www.myspace.com/shrinemotionpictures .She plays a role in the movie and the Executive producer.
http://www.missafricaunitedstates.com
http://www.facebook.com/Ladykatenjeuma
Dream Kweens movie trailer