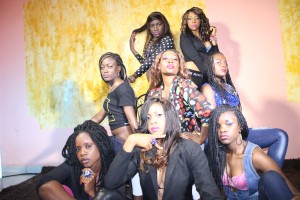 The Magic Girlz Brand is not new to the show biz industry here in K'mer. This group of sexy pretties has existed for over ten years in the industry. However, the Magic Girlz had been disbanded due to petty feuds that are common to groups of any sort.
Recently, the group of gorgeous looking babes has been re-called together under the auspices of Mr. Magic himself, and they are ready to paint the industry 'rainbow'.
Only days after you learnt here that the magic girls were re-united over the casting for West Don's 'Bend Over' Music Video, the magic girls are at it again, winning over several models from renowned agencies and enlarging the group.
The magic girlz brand is specialized in the provision of Female Models for movie castings, hostesses, music video and photo shoots, adverts for billboards and posters etc. The brand trains professionals and keeps them at the disposal of people in need of the above mentioned services, at very affordable rates too. For enquiries and reservations, please reach Mr. Magic at (00237) 77 05 00 54
Whatever their aim, or however they intend to go through with it, one thing is for sure…..:::
THE MAGIC GIRLZ HAVE COME TO STAY!!!