Imane Ayissi is a CamerBorn designer, model and dancer. He is the son of a family of sportsmen and artists; his mother was a model (Miss Cameroon 1960) and his father , a Box champion. Still young, he joined his family dance group "Les freres Ayissi" and in 1986, he performed in the presence of 7 African presidents at the Yaounde Congress Hall. His talent paid off as he received several honorary trophies like the Trophy of cultural friendship (trophées de l'amitié de la culture) at the World Cup in  1990. He joined the Ballet National du Cameroun to perform in music videos, concerts and Television. Imane accompanied several artists on tour like Yannick Noah during his European tour "Saga Africa" , Patrick Dupont in II Dance…le monde", Alain Marty, Jean Hugues Tanto of  L'Opera de Paris". He did a choreography for George Momboye in 1993.
In 1995, he worked with Guem, a percussionist and a Canadian Ballet group , Koke for the choreography of Deborah Brown in "Cirque de Soleil " , participated in videos of artists like Mylene Farmer', Seal, Sting (Brand New Day in 1999) and Fanny Ardant in Phedre. He was nominated at the "Nijinski Awards" in Monte Carlo in 2000 also serving as dance instructor at Salle Pleyel Jazz Academy alongside Tessa Beaumont. He has been an outstanding dance instructor from 2000-2009.
Simultaneously, after being a finalist in Mannequin Europe, he pursued his modeling career with big names in the industry like Piere Cardin,Christian Dior,, Gian Franco Ferré,Yves Saint-Laurent,F Smalto, and Lavin and sportswear companies like Oakley,Lacoste ,Levis,Modal, and Iguana Surf Challenge .
In 1992, he presented his "Couture" collections in Paris which were sold on request and made-to-measure and, in the summer of 2007, in partnership with Jean Marc Chauve, he also presented "Createur", a prêt-a-porter line sold in France, Japan and USA.
He is regularly solicited by L'Oreal to participate at "Haute Coiffure Francaise) and commercials campaigns for companies like Gap, Motorola, Sony Ericsson, Gitanes, Minima optiques, Lynx optiques, jeans Triangles, chaussures Browns, cigarettes Fines.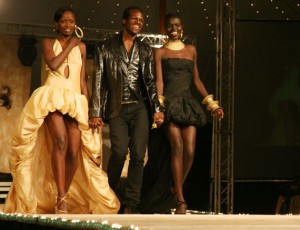 He was photographed with the Wolfgang Skolada jewelry collection and  created a line of dresses for the presentation of the Swarovski collection of jewellery and accessories at the Carousel de Louvre in Paris in 2004, and also creates with more accessible brand labels such as Multiples (a French prêt-à-porter label that sells at affordable prices) or La Redoute.
Imane presented a collection at La Nuit de Createurs" in PARIS in 1996 clothed top models like Katoucha Niane, Esther kamatari, Rebecca Ayoko, Mounia, Kimi Kane, Debra Show, Kinée Diouf, and Margareth Lahoussaye-Duvigny .
The garments of Imane Ayissi's Couture and prêt-à-porter lines, meld African traditions and realities with western fashion. His collections, often featuring exotic, evocative names ("Ongwass" o "Badjaga" ) combine craftsmanship, materials and traditional African cuts. Together with his use of innovative fabrics there is also often an infusion of typically African-style bricolage or recycling work, references to Parisian Haute Couture and contemporary creativity to create a fashion targeted at an international public.
For more about him, visit his website