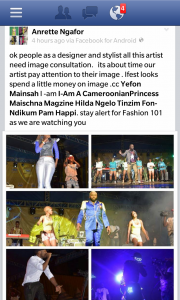 When your job is to thrill a huge crowd on stage, you are compelled to do so at every level . An essential way to achieve this is to dress in a manner that will easily convey your message to the audience or make them remember you for illuminating the stage. It has recently come to the notice of Cameroonian fashion stylists that Cameroonian artists forget to concentrate on what they wear and their stage looks. They are now putting up a vocal opposition on social media.
Singers and rappers have to look flamboyant on stage to set fashion trends as they influence the public considerably.
Liiber London owner, fashion designer Annette Ngafor has slammed criticism on the manner the artists were dressed on stage during the ifest concert in Douala last Saturday and she thinks they need professional consultation.  She simply has concern for our burgeoning industry and wants artists to look jazzy.
On Daphne, she thinks silver pants and a purple lace top on a beauty goddess was just inadmissible.
On Petit Pays, she feels dejected as he never gets anything right with his dressing. It's quite a predicament.
On Mathematik, the military uniform-look with a blue shade was just  unforgivable because it didn't match his skin tone. To me the outfit is not breathable due to the fabric.
Another Cameroonian fashion stylist and critic Muke Alison showed her displeasure on Twitter via #cameroonfashionpolice with a keen concern on Daphne whom she thinks needs to polish her style, get a chic look to match her beauty.
She however commended Magasco and Stanley 's casual attire. The ensemble they were clad in  was just relaxed and classic. Stanley Enow is known for his image  branding. He often dresses in his motherland T-shirts, jeans and sneakers. It was therefore not a surprise to spot him on stage with the traditional outfit.
What do you think?