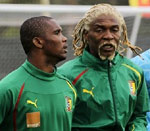 Dear captain and elder brother,
The news about your retirement from international career reached me during an Inter Milan training session in the United States . Though this announcement is not a surprise, it deserves more attention.
In 1998, when I arrived amongst the Indomitable Lions, I had the pleasure to mix with seniors like Patrick Mboma, Marc Vivien Foe, Raymond Kalla and of course you. These are the moments that are remarkable to any young player and I have very fond memories . Rigobert, you do not deserve to go by a simple press conference. We who have been teammates in the national team with you are calling for a more solemn retirement.
You will surely hold a jubilee when you quit your club career, but the country's sports authorities should have the duty to organize  a tribute  game for everything that you brought to our country, well beyond a simple jubilee.
…You won two African Cups of Nations, you were finalist in the Confederations Cup, you have participated in four finals of the World Cup, you hold the record for most number of matches played during the CAN, you were captain national team for ten years. Very few people can match such a record with the Indomitable Lions.
I … address an open letter because I want to associate all Cameroonians and all those who love football to these few words.
Do not forget that you  still have to lead Trabzonspor to new conquests during the 2010-2011 season ahead.
Eto'o
Philadelphia, 2nd August 2010
Interpreted by NexDim