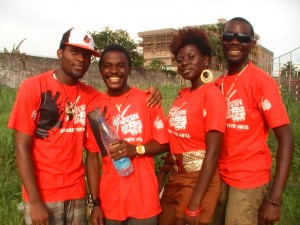 Da-Thrill is a Buea-based group best known as winners of the national Nescafe African Revelation  (NAR) 2010 Edition . The group includes Salatiel, Carine, Rude Boy, and Blaise B .
In a tussle with Root Zilley of Yaounde who emerged 2nd, Triyo of Yaounde, Edifice Sah of Garoua, African Angels , and Phoenix of Douala, DA-DRILL emerged winners succeeding the group, BAAM .
NexDim caught up with these aspiring Cameroonians to tell the world about the road to their victory, experiences  and their career prospects.
Hello
Hi
Can you briefly introduce your group.
' 'Our group is called Da-Thrill. It's  a group of four members who are all singers. Salatiel, an R & B singer, songwriter and producer, Blaise B who has an afro-beat and R & B touch, Rude Boy; an Dance-Hall artist and Carine who has a more soulful delivery. We are winners of this year's edition of the national Nescafe African Revelation succeeding BAAM, and we are to represent Cameroon at the Pan-African finals in Dakar, Senegal. "
Can you describe your journey to winning the Nescafe African Revelation ?
Well, it all remains a mystery because we missed the first audition of the competition for the preliminaries. It was only during the last audition or "rattrapage" that we were able to sneak our way through. We were voted overall winners at No Comment Night Club. Four days later, the regional finals held at  the University of Douala campus which had 13 groups participating. During this period, we were lodged at Hotel Helena in Douala and granted so many radio and TV interviews. Two groups were selected and we were amongst. We finally won the national finals on the 16th of May 2010, which coincided with the day Eto'os Inter- Milan won the champions league. We shall therefore be representing the national colours in July at Dakar, Senegal."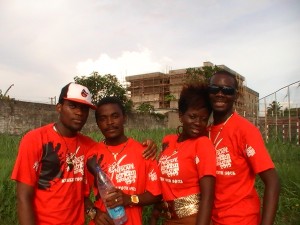 So what's next. A video?
Yea of course. A team from Ghana shall be coming to Cameroon to shoot the video of our song " New dawn in Africa".
Can your tell us about the content of the song ?
"A new dawn in Africa is an Afro-pop song with some Dance-Hall vibe. It's a song that gives hope  and raises the morals of  people of our beloved continent, Africa. The dark past of slavery is gone and there's a dawn of independence. We should therefore stand up to build up and make a better Africa which entails hard-work and God's divine help."
So what is your temperament after winning this competition ?
We are not so excited right now.Our major preoccupation is to get our documents processed for the pan-African finals. So we are keeping serenity, just working on our performances and attending shows for promotion."
What is the nature of your relationship with 2008 winners, BAAM ?
"Apart from our professional music careers, we have been friends with members of BAAM. We have been singing with them for a long time even before they were winners. We have a very cordial relationship with them."
Was any contesting  group shown some favour because they were Francophones ?
"No. The thousands of people who were present there could hardly identify if we were anglophone or francophone. We were very bilingual in our speeches and interacted with other groups cordially."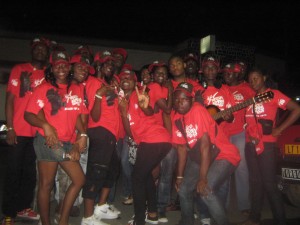 Apart from BAAM , which other artists performed during the national finals?
"Ivorian artist, Soum Bill, Thierry Olemba, and Valsero."
Tell us about your best and worst moments during this competition.
"Our best moments were at our hotel rooms where we met so many friends, other contestants and later meeting with other artists like Soum Bill, Valsero was a great experience. The bad momentswas when we expected money from the organizers of the competition which they did not provide.They could only provide us with hotel lodging. Rude Boy went on stage that day sick and Salatiel had a throat injury."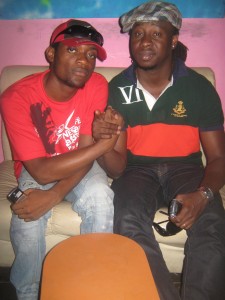 As winners, what are your prospects ?
"Our major need from the NAR team is to get a well-defined mutual contract with them. Release an album that will inspire the lives of people and we also hope to establish our name as a house-hold name in the Cameroon music industry"
What are your last words to  Cameroonians.
" We promise to do our best and we need your support and votes in order to be successful in Dakar. "
Thanks for your time. I know you all have busy schedules these days and other interviews. NexDim wishes you the best in your careers.
The pleasure is ours.