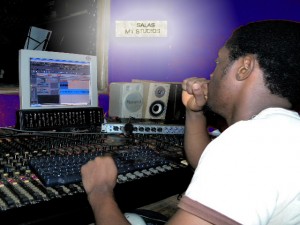 SALATIEL
Salatiel is a music producer/sound engineer, pianist, singer and songwriter. Born on 26th December 1987, Salatiel Livenja was born in a musical family. His mum, Pastor Mrs Celine Kwede is a music composer and singer. Salatiel started as a young songwriter, penning lyrics at home. Meeting with artists like Dominik, Joel Alex, Guy Michel, in Yaounde changed a trail and stirred up his career. In Buea, he hooked up with a well-commended producer, Cornelius, and Emile Ngumbah of M1 Studio where he currently works as  producer. He has produced artists  like Dr Sley, Bobby Nguime, Achalle, Big G, Denzyl, Tata Kingue and some gospel artists.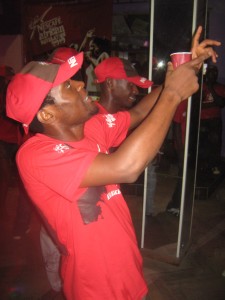 He was member of "Breakthrough Voices" with Blaise B.
Educational Background
Salatiel is an undergraduate Zoology student in the University of Buea. "I intend to complete my university studies and considering an Audio Engineering career.
Inspirational words
"Dream and pursue your dream.Release believe in what you do and God. Jesus is coming soon"
Email: salaslivoh@yahoo.com
Born on 7th May 1988, Carine was born in a music family, her mum was a chorister at
Christ The King  Choir
and her late dad encouraged her positively. "I know he must be
proud wherever he is right now'
'. Her younger sister,
Nkamdem Noratine
is an upcoming singer and Carine's personal adviser.
She started singing as a teenager in primary school and later continued in secondary school. In Saint Joseph Catholic Comprehensive College, Mbengwi, she was outstanding with her talent and later enrolled in REPACOL, Mutengene,where she was best female singer .
As a member of the group "Mega First" they released a gospel album which was supported by the Bishop. Recording the album at M1 Studio, she was solicited  by Emile Ngumbah of M1 Studio to be a back-up vocalist.
With other singers, she started at weddings, funerals and other ceremonies.
Carine has been a back-up vocals for BAAM, Dr Sley and other artists.
In 2008, Chillen Muzic sought this sublime singer to be part of the group
"Electrik
girls"
and recorded an album.The group dissolved later that year.
She featured in
Dr Kapt
's album
"Hot Kwacoco'
' and was also part of the
"Stand Up for Haiti"
project.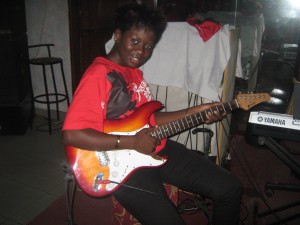 EDUCATION
Carine Nkamdem
an undergraduate student of the university of Buea studying Sociology and Anthropology. She pursues her academics passionately.
HER WORDS TO THE WORLD
"Everyone has an endowed talent.Young people should get educated  so that  if the talents fail at one point, you can have a back-up. Do not give up, keep pushing and get to those who have been there before you to seek advice.
Try to be humble and put God first. Be hard-working too as the Bamileke say "La vrai magique c'est le travaille"
Email: 
nkamdemcarine@yahoo.com
Rude Boy
was born on the 7th of June 1988. He is a songwriter, performer and an aspiring Radio/TV presenter and VJ.
Music is part of his family, his older brother was a member of the acapella group
"Victors of Glory"
with two members now  Kora Nominees;
" Bright Phase".
He got musically influenced by his brothers. In secondary school, he started a group called  
"New generation singers"
. He later met Larry (The male singer of BAAM) and formed the group
"F-DENEL"
. Two albums were released by the group;
"Don't loose
faith"
and
"Judgment Day"
in 2005 and 2007 respectively.
I had a reggae and dancehall influence in my neighbourhood by artists like Brown Pilot, Pon-Tiff, and Holy Man. I started performing in shows with DJ Sampler.
He has worked with artists like Dr Sley, MC Zas, Achalle, BAAM, Fallon Boys, Bemo Zinnia, and Le Cle son of God. He was one of the singers in the
"Stand up for Haiti"
song.
He is a final year undergraduate student in English Language at the University of Buea.
Prospects
My prospect is to be a renown reggae dancehall artist like Samini, Collie Budz, Brown Pilot, and DJ Sampler.I'm also an aspiring Radio/TV presenter and VJ.
"Obey your parents, always guan a school and leave de smoking fi di elders. Jah Bless.'
Email:

ndemba_ikoso@lycos.com
Blaise B
is a songwriter, singer and producer. He was born on the 24th of December 1988. He started singing in Secondary School like an ordinary singer influenced by Michael Jackson,2 Face and Wyclef Jean. He is a vocal teacher, producer and video editor at  Favoo Studio in Limbe. He was the lead singer of  
Break-through voices"
with Salatiel.Released a single
"Lord I'm sorry"
which received airplay on STV, Equinox TV and Canal 2.
He has worked with
Charles Rock Ahoudou
and produced his album
"Am free".
He has been composer and vocal coach for Full Gospel Choir, Mile 4, Limbe, PC Botaland, Baptist Church Limbe.
Email:
li_coil@yahoo.com or contact

FAVOO STUDIO

: (237) 77802692