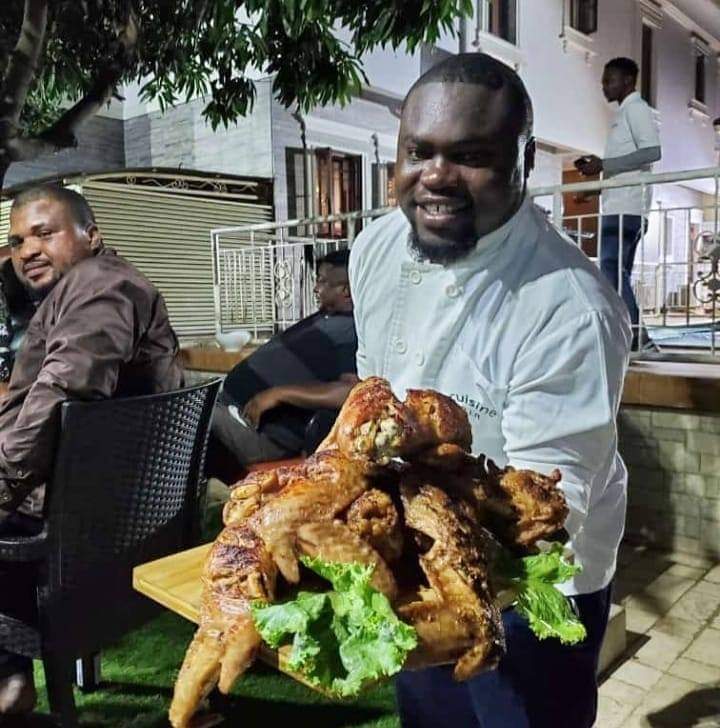 "It does not matter how slowly you go as long as you do not stop. Never give up, for that is just the place and time that the tide will turn."
I discovered Bright Grillzz following my elder brother's testimonial about him and eventual recommendation. He had visited Bright Grillzz in Abuja. And when he said that was great content for NexDim, I had to do a background check before getting in touch with him.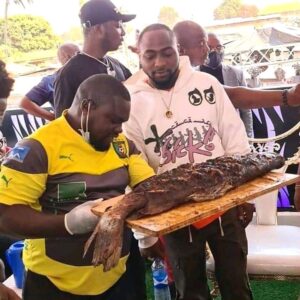 I was marveled. He is a Cameroonian making incredible strides in a foreign territory. I was immersed in some sort of reflection to decipher his motivation and secret in achieving such mahoosive success.
Again, I kept asking myself the question ; how can someone indulge in an underlooked business like grilling fish and become a millionaire? How did he do it ?
Several unanswered questions.
I decided to take a trip to Abuja, Nigeria to meet him in person to get the answers.
Bright hails from Ndu, North West Region. His parents,  ardent christians, brought him up to respect Christian values and during my stay in Abuja I noticed that moral orientation hasn't petered out.
He attended GHS Ndu and JMBC Ndu but later dropped out of school to fend for his family.
As a young eager beaver , brave, with a vaulting ambition to succeed in life and make his parents proud, Bright was ready for a new adventure in life.
Albeit the discouragements he received from his peers and some family members, he however got the blessings and encouragement of his mother to relocate to Douala. That was his hunch and motivating push.
He left Ndu in 2006 to Douala with a vaulting ambition and determination to free his family from the handcuffs of poverty. His determination was to get a menial job in order to help his family.
He spent several months of misery trying to get menial jobs in the streets of Douala. Then, he lived with a family member.
Life unfortunately didn't go as planned for Bright. Due to a  misunderstanding , he was turfed out of the house by the aunt he lived with.
Marooned, frustrated and disillusioned, he stepped out into the streets of Douala. He was homeless but had hopes.
However , he was lucky to meet an elderly friend and Anglophone brother called Grand Qualité who decided to accommodate him.
Grand Qualité was lured by Bright's humility, neatness and respect for people. He recounts how the benevolent man he still considers a "savior" fed him on a daily basis and provided him allowances for several months.
Popular snack bar "Douala Bar" in Akwa was where Bright got a menial job.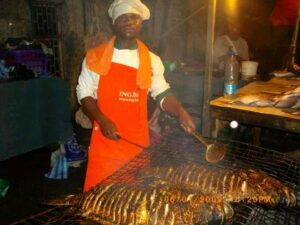 As time went on, he developed penchant for grilling and gradually acquired knowledge to grill fish. The owner of the place was amazed how proficient he became and decided to hand over the management of the place to him. Bright understood branding and positioning.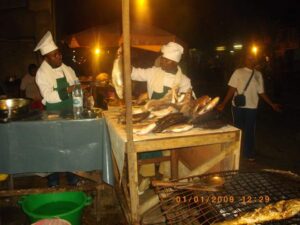 He had to make his job enviable. He sewed uniforms for his collaborators and provided incredibly appealing customer services.
God guided his path and his hardwork was paying off.
When his mum was sick and admitted at BBH , Kumbo , he cleared the bills which almost totaled a million.
Due to Bright's modesty, loveable personality and self-effacement , other women who roasted fish around Akwa and Deido neighborhoods unveiled some secrets of blending condiments to make fish more tasty.
Bright became a grilling phenom. His techniques and delectable fish made him renowned in Akwa and Deido. He was monikered "Kirikou" , an allusion of how small he was but doing mighty things.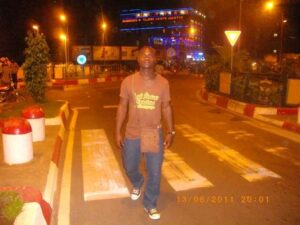 He had a competitive advantage over all other grillers in the Akwa and Deido neighborhood.
Anglophones who frequently came to Douala Bar were proud of him and recommended him to others. That's how he garnered popularity and veneration in Douala.
In 2011, a sterling opportunity came for Bright to travel to Abuja to teach the barbecuers of Ibiza and Cubana the grilling techniques. These are two renowned nightlife spots in Abuja.
It was a life-changing and unbelievable opportunity for the young Cameroonian from Ndu.
When he wrapped up the successful training program , had to make a feasibility study in Abuja and he quickly discovered he could carve his niche in the grilling marketplace in Nigeria.
Coming from Cameroon, he had to leverage his skills. He did a competitive assessment to know how to position his business and it worked favourably.
Bright decided to settle in Abuja to hustle. His experience at Douala Bar was his bait to attract a wide range of clientele. Don't despise you little beginnings .
His blend of condiments were so unique and the aroma was irresistible. He became that raving culinary entrepreneur whose French Barbecue ideology attracted the upper, middle and lower classes of people in Abuja.
He became famed in Abuja and highly solicited by billionaires to provide his barbecue service at their events.
After saving money over the years, Bright set up his own grilling eatery in Abuja worth 10 million naira.
Calamity ensued when the place was demolished by the government for development purposes.
He didn't give up. He continued striving to acquire a new place to continue grilling. His ardent and loyal clientele followed him wherever he relocated.
Bright has massively popularized the slogan "Feed the body that works the money" across Abuja and the streets love him profoundly.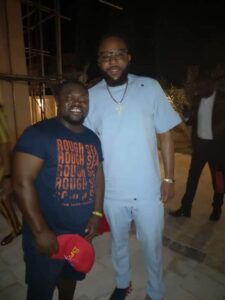 Bright Grillzz , a registered company in Nigeria is situated at Kryxtal Lounge, 70 Amino Kano Cres, Wuse 2, Abuja . It is the most popular grilling eatery in Abuja with a staff strength of 45. He pays them monthly.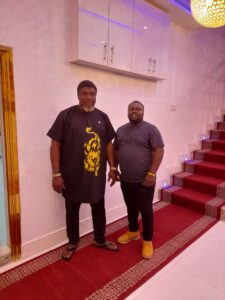 I had a lovely time in Abuja . Bright took me to a cozy place located at the heart of Abuja and from there , you have a panoramic and picturesque view of the Jabi Lake in Abuja  .
While there, I had the opportunity to meet with Henry Kray , a Brand Influencer for Jameson Whiskey in Nigeria.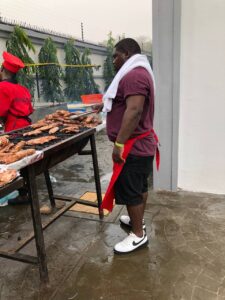 A massive partnership between Bright Grillzz and Jameson Whiskey brand is underway.
Bright's success is overwhelming.
He has been conferred Ambassador of ECOWAS Youth Council for his unflinching service to the Nigerian people; hence Bright procured a Presidential number plate for his luxurious Lexus ride.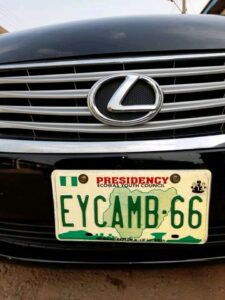 His expertise has enabled him to gain heartwarming testimonials for Nigerian superstar Davido.
After having taste of Bright's barbecue for he first time, he posted about him on Instagram and Teni did same.
He has been testimonialized by E-Money and many other Nigerian top celebrities for his exceptional grilling skills.
He regularly offers his services to popular multi- billionaire King Mo Adah "Ochacho" ( He is the man who offered Davido a Lexus SUV worth 60 million naira) , Obi Cubana Oyiegbu ($96 million net worth) , Cubana Chief Priest etc.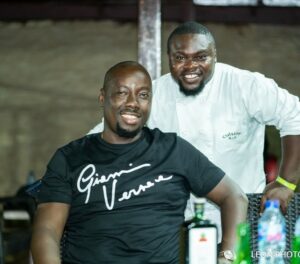 Bright is highly revered in Abuja. I had the opportunity to interview a billionaire , the Director of Allied Plus Consultancy and Limited Prince Godwin Udemaduka and this is what he said ;
" Bright is a good man , he is a great man. For ECOWAS to have given him ambassadorship crowns it all. The people in the streets love him and high ranking personalities know him…In six months time , I see Bright going to another level. I just pray God to protect him from his friends , from his enemies".
The most valuable results require patience is often said. Bright has been patient and resolute.
Bright's investment in Abuja is staggerring. Being low key is the key.
I can't forget , Bright kept telling me he never put money first but he worked extremely hard, stayed loyal, humble and established long lasting relationships that are presently hoarding money for him.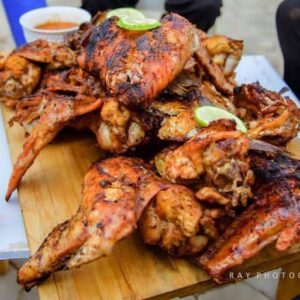 Bright has unswerving love for his country Cameroon and he brandishes the flag everywhere in Nigeria. A few months back, he received Cameroon's Volleyball team at his place after they won a competition against Nigeria.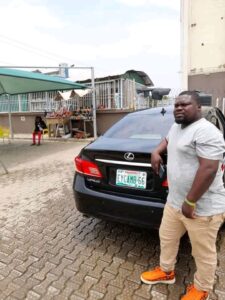 In his car, a playlist of Makossa and Cameroonian urban music keep hitting the speakers and his driver, who is Nigerian masters the lyrics of these Cameroonian songs more than I do.
Bright is a quintessence of hardwork and success ; he literally moved from rags to riches. He is respected and admired by people around him.
His life conveys the message that no condition is permanent. He was resilient and had unwavering faith, kept working hard to thrive .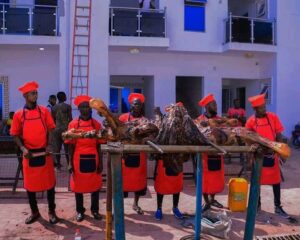 Through determination, grit, and a little bit of luck anyone can overcome their circumstances and achieve extraordinary success.
His disillusionment and angst morphed into opportunities.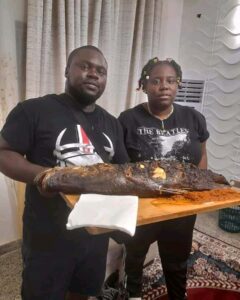 Bright keeps his mother so close to his heart. His mum regularly shows gratitude to God for blessing his son.
Bright told me a hilarious story, he said he used to be best when it comes to drawing fish and naming it's parts back in his school days.
Get inspired .