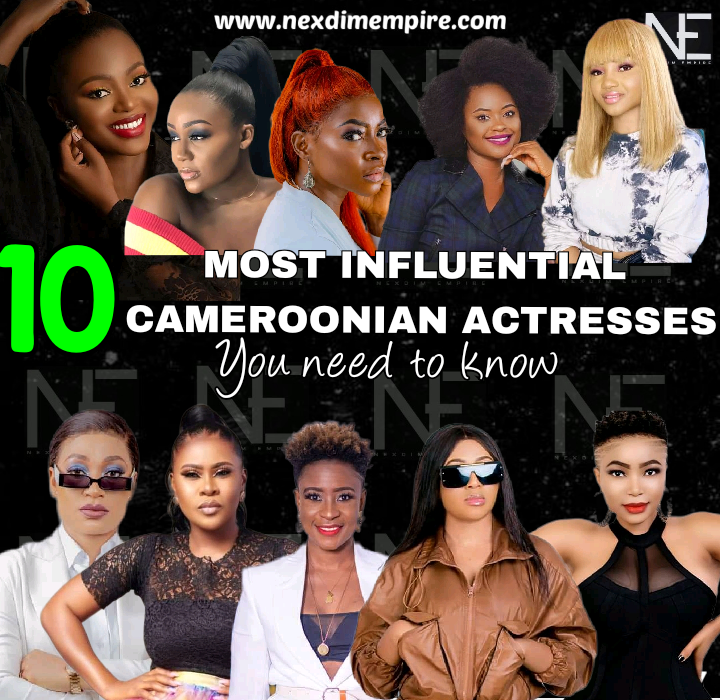 1.  Okawa Shaznay ;
34-year-old Okawa Shaznay is a Cameroonian Nollywood actress .She was born in Bamenda.
She gained prominence in Nollywood after starring in the movie "Iyore"  alongside Rita Dominic and Joseph Benjamin. Okawa Shaznay became more famous with her leading role in the 2016 hit TV series Delilah: The Mysterious Case of Delilah Ambrose. She won the Exquisite Lady of the Year (ELOY) award for TV Actress of the year in 2016 for her role in Delilah.
2. MURIEL BLANCHE
Actress and singer Muriel Blanche was christened Leumeni Kamcheu Muriel at birth. She was born on the 25th of August 1990 in Bandja – West region.
Her acting career gained traction when she starred in Pakgne series alongside Marcelle Kuetche. She has also played roles in 'Un baiser pour deux' by Dante Fox , Habiba by Ebenezer Kepombia, Monsieur & Madame by Ebenezer Kepombia, Shenanigans by Salem Kedy and Aline by Salem Kedy.
3. LUCIE MEMBA BOS
Lucie Memba Bos was born in 1987. She was honored for best lead actress in Cinema of Cameroon for French speaking actress at Cameroon Movies Merit Award (CMMA) 2013 edition. She made a remarkable International impression in Agbor Gilbert's  "Pink Poison" featuring Jim Iyke and "Far"  alongside Nigerian Dakore Akande.
In September 2017, Lucie Memba was nominated as best Cameroonian female actor for TROPHEES FRANCOPHONES DU CINEMA in the film La Patrie D'abord by Thierry Ntamack . .
She has also acted in "Le Blanc d'Eyenga 2"  and Chariot of God alongide Locko , directed by Anurin Enigm'Art Ist  .
4. Nsang Dilong
Actress Bodi Nsang Dilong was born on August 1994. She had a stint in modeling and became winner of 2011 edition of Miss West Africa Cameroon Competition (MWACC.
Dilong is also renown for her comic skits on social media.
She has starred in Zamba (2016) with Epule Jeffrey, Whisper (2012), Rumble and Expression.
5. MARCELLE KUETCHE
Nkomkobo Kuetche Marcelle was born in 1992. She hails from the West region . She rose to fame after starring in "Pakgne" alongside Muriel Blanche . She has also played roles in feature films like 'Aline' by Kamcheu Muriel and "Irrational Love" alongside Syndy Emade, a film by  Chelsy Susy. She is equally a popular face on Cameroonian TV series .
6. STEPHANIE TUM
CEO of Embi Production , Ekah Stephanie Tum was born in 1987. She became prominent in 2011 , when she starred in Pink Poison , a film by Agbor Gilbert.  In 2013, she acted as a cocky lawyer in Viri and proves her versatility in Shrill (As a slay queen) , Little Cindy (2017) and The Giant Broom.
In 2020, her movie "Saving Mbango" was the rave of the movie industry clinching  wins at Ecran Noir and CAMIFF .
7. NDAMO DAMARISE
Ndamo Damarise is an actress and motivational speaker . She is reputed for her role in "The Fisherman's Diary" , which has enabled her clasp Best Actress at IFFA – India .
She won Best Supporting actress 2018 in London, UK at ZAFAA Global Awards .
8. ONYAMA LAURA
ONYAMA Laura Anyeni was born in 1992 in Buea . She studied Linguistics at the University of Buea.
She debuted her career in 2011 with Rain by Chando Daniel(2011). She has played salient roles in Rebel Pilgrim by Chinepoh Cosson,
CRTV series "Rumble" by Billybob Ndive ,
Kiss of the death by Musing Derrick , Ward Zee by Itambi Delphine, Dirt Roads by Enah Johnscott , Stripped by Enah Johnscott, Church street by Nkanya Nkwai  , Saving Mbango by Nkanya Nkwai and multiple award-winning movie "The Fisherman's Diary".
She emerged Best Cameroonian actress at Ecrans Noirs Film Festival 2016.
In 2017, she won Best Actress awards at CAMIFF and CAMIFF 2021 as Best Actress in Saving Mbango.
9. Syndy Emade
Actress , movie producer and entrepreneur Elone Synthia Emade was born on November 21,  1993.
Currently a brand influencer for TECNO, Syndy is one of the most renown actresses across Cameroon.
She is founder and CEO of Blue Rain Entertainment with films like
" A Man for the Weekend" and "Rose on The Grave" under her belt.
In 2016, she made her Nollywood career debut  in the movie "Why I Hate Sunshine"
She was awarded Best Cameroonian Actress at Scoop Academy Award 2017 and won the 2014 the edition Cameroon Miss Heritage award. She has starred in Bad Angel (TV series) , Soldier wife, House mate, Smokesscreen, Before you say yes, Chasing tails, Die Another Day, A Kiss from Rose, Why I hate sunshine, Rose on the grave, Different kind of men , Pink poison with Epule Jeffrey , Entangled and Obsession.
10. SOLI EGBE
Solantine EGBE popularly known as Soli Egbe  is an adept actress. She was born in 1992 and hails from Manyu , South West. She has starred in a myriad of Cameroonian movies including
, Darkside, Woman, Before you say yes I do , Bad runs, The prodigal son , Baren and Rumble (TV series)
She made a remarkable impact as producer with her movie  "Shrill".
Soli made her emphatic Nollywood performance in "Jump" alongside Ruth Kadiri.
#nexdimempire