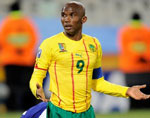 The very first outing of the Indomitable Lions was marred by a defeat from Japan 0-1. Paul Le Guen's selection had problem of positioning, lack of creativity, and inspiration. It rained severely after the match in the nations capital Yaounde as all bars, streets and homes went cold. This is how I evaluate some  players:
SAMUEL ETO'O  "possesed the ball 7 times only"

Cameroonians were expecting the captain of the national team to be more offensive and create as many opportunities as possible for goals or score goals as he used to do for Cameroon and his clubs but we rather saw him playing at the right flank, defending and retreating.The only offensive move he perpetuated was at the 35th minute when he dribbled passed two Japanese defenders and passed the ball to Choupo who shot wide. He did not succeed in shooting any ball intended to score a goal.
JOEL MATIP
The young Germano-Cameroonian did the best he could at the mid-field to circulate the ball and make good passes. He was also very defensive but sometimes fragile. He had a problem of being too slow in his retreat and offensiveness. We donot understand why he was replaced by Le Guen for Achille Emana at the 64th minute when we expected Alex Song who is however preferable. Matip's evauation is however encouraging for the future.
ASSOU EKOTTO
Assou Ekoto is always at his very best defending the colours of Cameroon. I call him "Mr Perfect" .He gave accurate crosses that were intended for Webo who was not always well positioned. Very impressive in his play style,vivacity and creativeness.
MBIA
Though he failed to check Honda which caused Cameroon a disaster, Mbia was at his best form yesterday.He was very energetic in carrying the balls and making passes up front. His thunder-bolt shot at 5 minutes to the end of the game would have made Cameroonians hopeful but hit on the bar.He was impressive.
EMANA
Emana who entered at the 64th minute was to bring more initiatives and creativeness at the attack but our play-maker lacked inspiration yesterday. Maybe he should start the next match.
ENOH EYONG
He was the most disappointing player yesterday. He was fond of missing duels, giving passes to the opponent and misdirecting his passes.He was however the only Cameroonian player who shot on target in the first 45 minutes.
CHOUPO MOTING
We could hardly believe this was his first international competition with Cameroon.He was trying to be creative and penetrate the Japanese defense unlike Achille Webo. He is a player with apt initiatives. He however failed to transform a glaring assist from Samuel Eto'o to a goal.His ball control at the right and left sides upfront were amazing.
NKOULOU
I was very satisfied with Nkoulou's aggressive and defensive interventions. He was really combattive like an Indomitable Lion.
SOULEMANOU
Considered as first choice goalkeeper by Paul Le Guen side-lining Kameni Carlos, Soulemanou has failed to impress  Cameroonians. He is very vulnerable and not convincing at all. He has received 5 goals in 2 matches.
WEBO
The Cameroonian attacker posed no threat to the Japanese defenders. He was a shadow of himself and did not show any intention of scoring a goal for Cameroon.Poor positioning was a problem with Webo and sometimes losing balls to the Japanese.
IDRISSOU "15 unproductive minutes"

He took the place of Choupo Moting at the 75th minute. He suceeded in possessing some balls which he could not control with aptitude. He was not impressive and lacked inspiration yesterday. He spent 15 useless minutes on the field.