The growing succ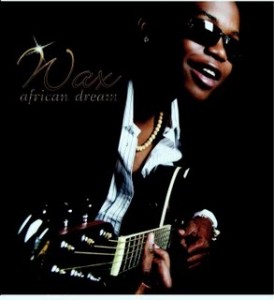 ess of the hit love song, Miss Real, Mr Regular, leaves no delusion with soul singer/producer, Wax, about diluting the crucial messages behind his electric and thought-provoking new album: African Dream. It is an album that audiences will come to discover as reflecting the life and aspirations of his alter ego, Nde Ndifonka – a mirror of Africa on the verge of a new era.
The Cameroonian star will launch this African Dream on Wednesday 29 July, 8pm at the Bluesroom in Village Walk, Sandton; Nde will shed his suit and talk in favour of a guitar and mic, marking his first full-band performance of the album on South African soil. The show will feature other prominent African performers, including Kunle Ayo from Nigeria and MXO from South Africa.
"African Dream is not just music. It represents a lifestyle," says Wax. "I want the success of this album to be judged not by charts, but by the impact it has on anyone who listens to the message." So what is this message?
The title track encapsulates this in a bridge that croons: 'On CNN I see this little street kid; he's got nothing to eat, and that's all that they see; but somewhere in his eyes I see ambition scream: who will set me free from these gates of dreaming?'
Because, as Wax explains, his dream is to see every African reach their full potential, an objective that goes beyond a child on TV's basic need for food.
"It is not my dream – I am only part of a growing body of African youths who are ready to seize the reins of the continent's future and claim their place as global players in every field of endeavour. I am only motivating my listeners to become part of, and support that body."
28-year-old Wax is a Southern Africa's Spokesperson for the International Organization for Migration (IOM). He is a brand ambassador for the City of Joburg and the ONE Movement (an anti-racism/xenophobia initiative championed by the United Nations, under the patronage of Archbishop Desmond Tutu). He has toured Europe and the US, working and performing for charities, and appears regularly on local and international media on humanitarian issues. He staged a show for UN Secretary General, Ban Ki-Moon on his recent visit to South Africa. Owner of record label, Lolhiphop records, he also writes and produces songs for other African artists. His first publication, a play entitled 'The Chosen One' has been used in the South African public school curriculum and in tertiary institutions across the continent. Currently producing his own TV talk show, Wax also makes time to give talks and lectures on various pertinent issues affecting Africa at universities and communities.