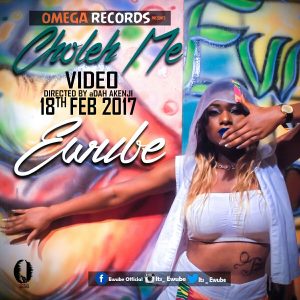 Dancehall Queen Ewube is undeniably one of the most consistent female artists in Cameroon. Her incredible charisma, vocal dexterity and sublime looks delivers a complete package to savour. With a cream of uprising female artists pursuing the same genre, Ewube seems to be raising the bar considerably high. 
After rocking the airwaves with hot radio-friendly songs like "Party All night" , "Pop it", frontline Omega Records songstress is back with a new thunderbolt dancehall tune titled "Choleh Me". Ewube uses a local Cameroonian pidgin parlance "Choleh me" , a semblance of saying don't mind her business . She's indeed on her grind and big journey to the pinnacle. According to partner blog Kamerflow Magazine, in Choleh Me", the Canal D'or nominee is telling us how to ignore our haters, those who choose to see only the evil in us, who want to paint a dark image of us and deny to see the good maybe because we are better than them.
The song was produced by Magic Fingaz and video directed by Adah Akenji.  
Please watch, share, and comment and don't forget to vote for her by sending Ewube (AGUF5) to 8800201 or call.