NexDim now takes you into the world of two veteran journalists who have inspired the trail of Journalism  in Cameroon-Peter Essoka and Zacharie Nkwo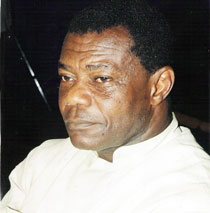 PETER ESSOKA
Before the advent of television in Cameroon, Cameroonians relied on Peter Essoka's second to second commentaries for a graphic picture of each football match.
Peter Essoka is one of the few Cameroonians who is known by virtually everybody. This is because of the impact which he has left in his professional life that spans over 40 years.
As a journalist, Peter Essoka created great sensations in the 70s through his emotional sports commentaries on radio Cameroon. In the early 90s when multi-party politics was reintroduced in Cameroon with its ensuring consequences, his programme "Hotline" became a punch bag for many Cameroonians who wanted to air their points of view. Today, many people look forward to his morning "Reflections" over CRTV Radio for their daily inspiration.
Above everything else, Uncle "P", as he is fondly, called has over the years had the privilege to present the Head of State's messages to the English population.
He was, and remains very articulate; reason why he could practically move his listeners into seeing what he was seeing, feeling what he was feeling and even smelling what he smelt in the commentary box. But above all, Peter Essoka, speaks English with a difference. He retired from active service at CRTV recently, but from all indications, Essoka is not done with broadcasting yet. In other words, he may have retired, but he is not tired.
Peter Essoka is presently a Human Rights Activist, a member of the National Commission on Human Rights and Freedoms.
ZACHARIE NKWO
Officially retired as a radio broadcaster in  Cameroon since November 2003, Zachary Nkwo still continues to exert a volunteer job which belongs to him at 65 years of age. This is his true marriage of passion . It is with great sadness that we will remember these many sports broadcasts through different stadias of the African continent and the world.
At that time this reporter, who not only represented a myth for most was the eyes and ears of the Cameroonian public for many sports events. This was before the advent of television in Cameroon.
But through the radio, we followed the game to the least detail. The radio reports of this man portrayed almost exactly what was on the field of play.
Today plunged in anonymity on the national level, "Zac" is nevertheless considered a  celebrity in the capital of the South west Region in Buea and currently works with the Regional station CRTV Buea.
With Abel Mbengue, he wrote the most beautiful pages of the history of broadcasting in our country.
Some excerpts courtesy of  http://www.postnewsline.com/