Trackzone started in 2004 a as small group of 4 recording artists that later swelled up to 7 members. As a small group, they started up with a home studio producing Hip hop instrumentals and recording on them. It was until 2008 that the group decided to go from creating demos at home to being public and commercial. Subzee is now the CEO of the record label.The members of this label include BigMich ,Subzee,Trano P,Sparx,KT Rap,Young G and Mayar who is the up and coming gospel artist.
NexDim decided to throw a spotlight on the major signing of the record label,Big Mich for an exclusive interview.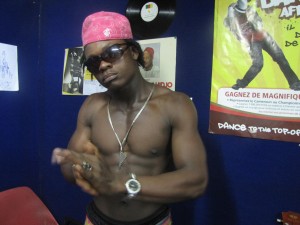 NexDim:why the name Big Mich?
Big Mich:''Mich is my real name. so I decided to keep it that way without any alteration.I added Big just to signify respect''
NexDim:How long have you been in the hip hop game?
Big Mich:''I have been rhyming for like 10 years now. since 1999.i started off with break-dance and later started doing freestyle on American hip hop beats. I decided to commence penning down my own lyrics while at school. I couldn't afford for a demo recording because it was too expensive for me and a constrain. My mum gave me some money to record my first demo. The demos I recorded gave me some exposure and I was beginning to be recognized in the game .I met DJ Subzee at Miss Francophonie award which took place at Alliance Franco where I performed. He said I flow was tight and decide to affiliate me with TrackZone Records''
NexDim:when will your debut album be released to the public?
Big Mich: ''my debut album will be released sometime in October. I haven't had any specific date. It will all depend on my label and the availability of all necessary resources to make this happen.The album will be 100% hip hop and I believe everybody will appreciate''
NexDim:with the infiltration of Nigerian music in the Cameroonian music scene,how do you think you will penetrate and fit in the industry with your kind of music?
Big Mich:''I do believe in myself enormously and in what I do, I do best.i am not out for any competition with anybody or the Nigerian musicians but one thing I will like to say is that I commend their efforts and appreciate the genre of music they do reggae, ragga, dancehall music.All I do is appreciate good music. First, the concept of the song and next thing the beats. I strongly believe the kind of music I do will gain its place in the industry''
NexDim:how do you picture the Cameroonian Hip Hop music scene?
Big Mich:Hip hop music in Cameroon is still in the making. I think it's a gradual process for us to arrive our destination. In some years to come I believe it will gain grounds and people will start to appreciate. the major huddle we are facing is investors. There are very talented guys in Cameroon who are capable but there's no support for these talents to gain exposure''
NexDim:How do you cope with fans?
Big Mich:(laughs)I am still underground at the moment though I have had some performances. I can't boast i'm as big as the other stars who walk by and there's paparazzi everywhere but I have a conviction I'll get there someday''
NexDim:where have you performed so far?
Big Mich:''have performed at Camer Groove in Douala,several times at freestyle shows at Cinema le Wouri,in Buea at Alliance Franco Camerouaise, and in Limbe at Calypso Nightclub and Limbe palace just to name a few''
NexDim:thank you Big Mich for according us your time to talk to us.
Big Mich:''thanks.I also do appreciate what you are doing to make our local artists gain exposure to the outside world''
TRACKZONE is now a working hard to become a household name in the Cameroonian music scene.Apart from Big MICH, Trackzone has also completed a Gospel album that will be released some time soon by the Trackzone diva MAYAR.
Trackzone Records contact:
(237)70205189
(237)74932106