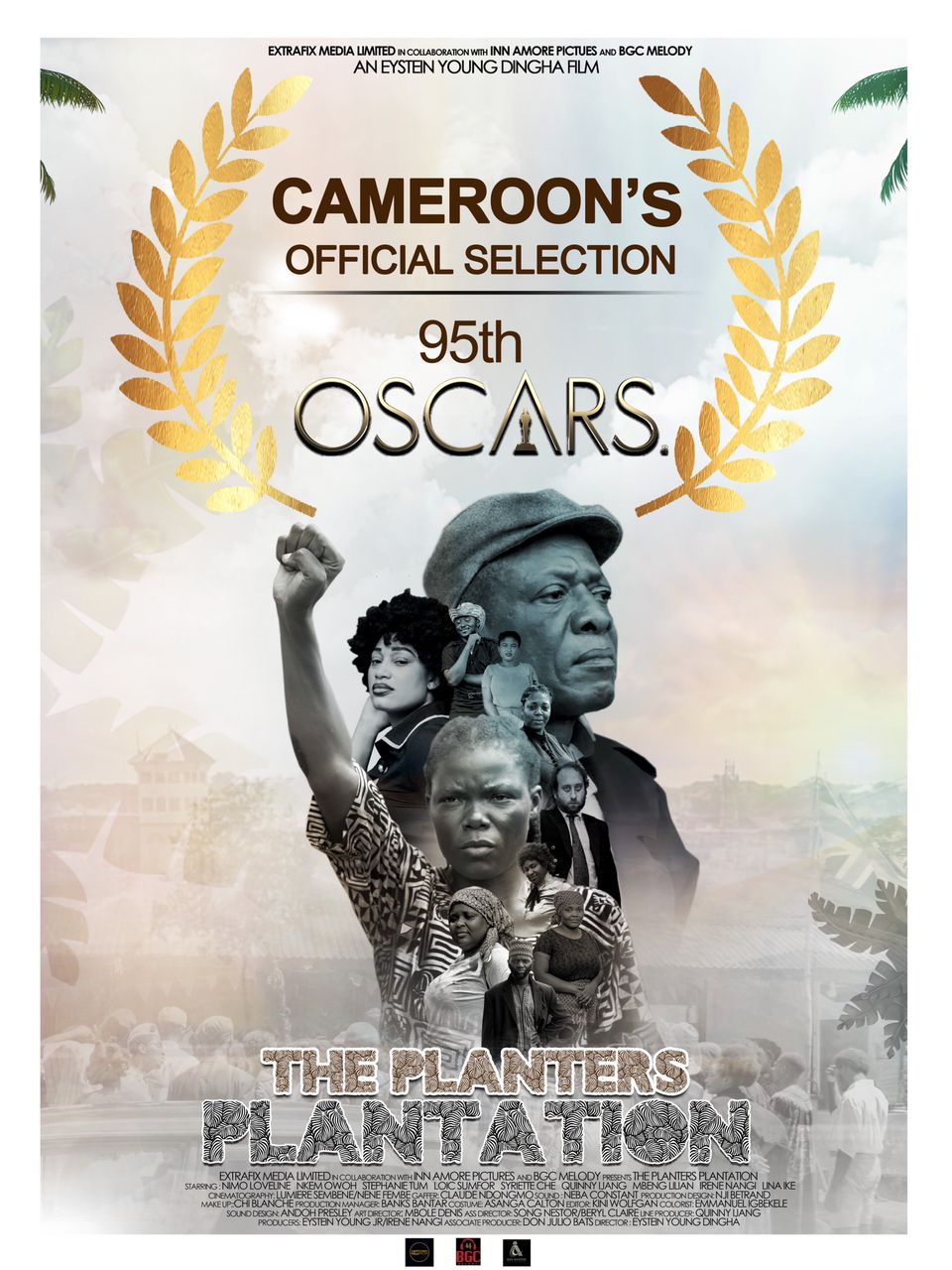 Cameroonian movie "The Planter's Plantation" directed by Dingha Young Eystein is Cameroon's official selection in the Best International Film of the 95th edition of Oscars.
The announcement was made by the team consisting Extrafix Media Limited, BGC Melody STORY and INN AMORE Pictures.
It seems to be an emblematic choice after , "The Planters Plantation" backed three awards at the Ecran Noir Festival 2022 , Best Cameroonian actress for Nimo Loveline , Best Cameroon Film and Best Overall International Movie. The movie also clinched  "Ecran D'or",  becoming the first Cameroonian movie to win in 26 years .
The Planters Plantation's strides continue to spread with its official selection and nomination at The 2022 African International Film Festival and the Watch Africa film festival in the UK.
The 15-film shortlist for Oscars will be announced on December 21, 2022 and the five nominees will be announced on January 24, 2023.
The 95th Oscars will take place on Sunday, March 12, 2023
CAST AND CREW OF THE PLANTERS PLANTATION
Starring : Nimo_Official Nimo Loveline , Loic Sumfor , Stephanie Tum Official , Nkem Owoh – Osuofia , @Quinny Ijang , @Irene Nangi , Syriette Che Official , @Lina Ikechuju , @Mbeng Lilian , @Lovert Lambe, Alexander Powers , @Takum Fred , @Bruhilda SK , 
Cinematography: @Lumiere Sembene / Nene Fembe
Colourist : CinemmaOfficial ( Emmanuel Igbekele Odihiri )
Writer/Producer/Director : Eystein Young Jr
Companies : ExtraFix Media Limited in collaboration with Inn Amore Pictures and BGC Melody Story
Producer :Irene Nangi
Line Producer : Quinny Ijang
Associate Producer : Don Julio Bats
Gaffer : Claude Ndogmo
Continuity : Nubia Nahbila
Script Girl : Tantoh Vicky
Costumier: Asanga Calton
Wardrobe : Akere Brandon
Costume Assistant : Ewanga Emmanuel
Production Designer : Nji Bertrand
Props/Sets: Mbang Milton
Make Up : Chi Blanche
Hair Stylist : Sc Magic/ Afah Blessing
Props Handler: Chia Clive
Sound : Asogho Neba Constant
Boom Operator : Nelson
Sound Assitant : Chi Njoya
Art Director : Mbole Denis ( Able D)
Assistant Director : Song Nestor
2nd Assistant Director : Beryl Claire Enjeck
Editor : Kini Wolfgang
VFX and Additional Sound Edit : Yonka Herbert
Online Edit : Joshua Tsotso
Sound Design : Andoh Priestly
Original Score : Godemma Studios , Ayeah Leonette , Zita Light, Loic Sumfor, Manuel DLM Mag Bila
Online Editor : Joshua Tsotso
Production Runners : Long G Andy / Syriette Che
Additional Screenplay : Quinny Ijang
BTS : Bambo Bradly for BK Photography
Project Supervisor : Gelam Dickson
Executive Producers
Eystein Young Dingha Jr
Don Julio Bats
Irene Nangi
Quinny Ijang
Nain Eunice Young