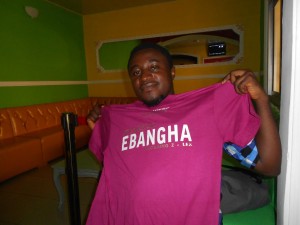 NexDim correspondent caught up with R&B/Afro-pop sensation and NexDim CEO , Steveslil ''The Panjo Master'' for a brief interview about his new single ''Ebangha'' which is currently hitting the airwaves.
Enjoy !
NEXDIM: Hello. Steveslil
Hi .
NEXDIM :What is this name ''Panjo Master'' all about ?.
''Panjo'' is an appellation given to the state of madness. If you were so bookworm in school, you were referred to as ''Panjo boy or girl''. My deep penchant for music made some friends and family members to think I was ''Panjo''. (laughs). After using this word to mean getting crazy for a girl in my single'' Panjo'', I adopted the alias ''Panjo Master''.  No  query!
NEXDIM: ''Ebangha'' is gradually encroaching everyone's soul. What inspired you to pen a song for ''Ebangha''.Is it a true life experience?
I wrote this song to all African girls , specifically Bayangi girls appreciating their beauty, using ''Ebangha'' as a prototype. Maybe my subconscious intuition influenced me a little.I remember the first girl I really developed a crush on during Secondary school was called ''Ebangha''.(Laughs) . When my friends Churchill and Didi listened to the sketchy beats I had produced and chanted at home, they made me understand it was a great song. We made a home video and posted on Youtube which had a positive impact on social network. I knew it was propitious.
NEXDIM: So many music pundits have criticized
Z-lex's verse for having some immoral aspects. What's your impression?
I think if you want to follow his lyrics keenly and deduce the sense from it, he isn't offensive. However ,we have a censored version of the song which won't have what music pundits consider offensive.People love the original version though.
NEXDIM: Z-lex did an incredible job on the production of the song and his rap verse was stunning. Did you foresee he was going to be the right person to create the magic?
Yea. Z-lex and I have been friends for close to 5 years now. We did music together in Molyko back in the days when Last Land Records was hatched. We had collaborated on songs like ''On da show'' and 'What's happening''. I am so much aware of his prowess and capabilities. Whenever we work together , music is produced like magic. I had worked on the sketchy instrumental of ''Ebangha'' which I used on a video I hitherto posted on Youtube. He perfected what I had produced and made it deluxe. We used just a day to produce, record, mix and master the song. I got into the booth and had just one take, and the song was done. I think it was my fastest recording session ever. I believe so much in his skills.
NEXDIM:What has been the public appraisal after the release of this single?
I am so impressed so far. The song is presently having airplay on radio and clubs around the world. I have had a panoply of messages from US, UK,Dubai, South Africa, Nigeria etc via Facebook ,Twitter and other social network appreciating my song, the appraisal being that the song has an incredible vibe. I appreciate all the DJs promoting my record.
NEXDIM: What is your plan for the future after the release of ''Panjo'' , Ebangha'' and ''I go marry you''?.
While promoting the singles, I am planning to shoot the videos .I hope to work with the best video directors in Cameroon . I will release the entire album only after the videos are done. By God's grace all will be well. A top video director based in Paris is interested in  as well as other African video directors.
NEXDIM: How do you rate the music industry in Cameroon at this level ?
From my keen observation, we are progressing in our standard and quality of music and videos. We have tones of talents in Cameroon. Jovi, Dr Sley, Magasco,Renise, Sine,Achalle, Adah,West Don, Pazzo,Rough Kumbaboy, Z-lex ,Museba and many others are making the world believe in us. But I think we still have
a lot of work to do to get our music heard. We need to augment our efforts to get our music promoted and exported. We should also learn to support each other rather than developing contempt. I hate to see brothers in the industry fighting and slandering .Should I call it 'Beef''?. The recent Red Eye powered Mega Jam was a veritable representation what the level we have attained so far.
NEXDIM: We recently got rumours of  your endorsement deal with a JC Wear.Is this true?
Yea .I recently signed an endorsement deal with a Yaounde-based clothing company called JC Wear.They are very creative guys and I"ll love to have a long working relationship with them. I am currently promoting  their brand all over Cameroon. Some of their designs will be seen in my upcoming videos. It"s exclusive.
NEXDIM: It was great having you.
Thanks .