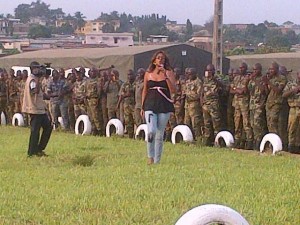 Cameroonian diva Museba has been basking in the sunlight of fame after the release of  ""Bom bom bom"".She recently paid a visit to the military camp
in Abidjan where she thrilled the audience with her new single. She keeps advocating for peace.
 "It was a great experience for me as a young
female artist, if you dont stand up for something, you will fall for somthing! 
I"m happy to give my support for peace in Côte d"ivoire, Africa and the world"  says Museba.