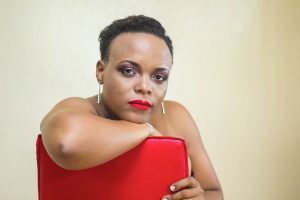 Astute , sharp-witted and gorgeous Ayuk Tambi is a Cameroonian actress whose versatility and acting prowess has been internationally acclaimed . The mind-blowing range of emotions she displays, her exquisite face and her subtle dignity with which she handles her character, will take her far in her film career.
Ayuk Tambi is outstanding in the way she delivers her taunts, script interpretation and her unmatched professional delivery is usually heart-wrenching and her final outburst is easily the highlight of the film. Her performance in any film is worthy of awards.
She has starred in a myriad of movies across Africa both as protagonist and supporting character including "FAR" and " Pink Poison" by Agbor Gilbert Ebot, "A Little Lie A Little Kill" by Ivan Namme, "U -turn " by Ashu Egbe, "VIRI" by Nkanya Nkwai, and "Nightfall" by Nkanya Nkwai , "Life point" and many more.
Some of these projects have won notable awards and critical acclamation worldwide like "Nightfall" (Won Ecrans Noirs 2015) and "Life point" (Won Ecrans Noirs 2017).
Her new movie project "Maalle" is currently in post production level, while "Shades of Vengeance" and "A Woman's sting" will soon hit the screens.
Ayuk Tambi's movie career is quite propitious and her penchant is to break into Nollywood this year.
Due to her ground-breaking talent and remarkable performance as an actress she?has been invited by Mr. Sunny Odefe as one of the brand ambassadors at the African Cinematography Festival (ACF) slated in November alongside other reputable African movie stars likes RITA DOMINIC, RAMSEY NOAH, SANDRA M SEGHERS, San Lizette Zofeunyui, Thandekile Grace Maseko, Serge  Patrick LALEYE and other renown resource persons all over the world.
Stay connected for an exclusive interview with this African fast-rising actress.