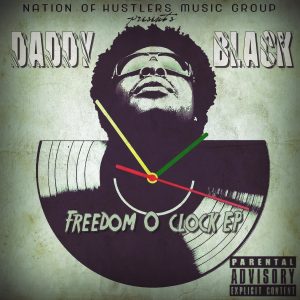 Reggae-soul musician Daddy Black has resurfaced with a 3-track EP of immensely inspirational music for you to savour. The EP is dubbed "Freedom O'clock" and includes "I no be small boy" as bonus. Nation of Hustlers' frontliner Daddy Black showcases his lyrical prowess and vocal strength. It's a must-listen.
Track Listing 
Freedom O'clock
Tori Tori
Money no get friend
I no be small Boy
Press release
A true artist, like we know, does more than just compose words into a beautiful piece of music and sell them. He transcends the music-for- sale universe in which wallow most of his contemporaries. Like Bob Marley, Peter Tosh , Fela Kuti , Martin Lurther King Jr, Malcom X, Ti Ken Jah Facoly, Lucky Dube, Alpha Blondy etc., Daddy Black, winnows his words not just for good music's sake, but for a cause that has as primary motive to emphasize the need for social, political and economic change in the nation.
For instance, "Freedom O'clock" produced by Lion Riddims(Based in ROMANIAN ) is an earnest political message to the head of State . A more or less, direct way of asking him mend the helms of the country that are going fray. This spectacularly revolutionary reggae song, ensues from the dire political turmoil that has claimed the lives of "Brethren" in the North West region. From the lyric itself, we hear the voice of an angry people, a hoarse and sad voice that wants to be heard by an indifferent regime.
The second piece "Tori Tori, (Monkey go chop pepper)" produced by "Inadeplace" is a typical ragamuffin record, sung in collaboration with Kay Dwin, tackles a more general societal phenomenon. Because it has not dawned on most people that anything they do comes right back at them, it feels just imperative to put them in the know of the gospel and sincere truth about nature by creating music for such purpose. Most people, in the government and in the streets do not have an inkling how deep and morally elevating this phenomenon is. So, this song is a crucial warning to most if not all the people.
The third piece" Money no get friend" Produced by Junior Chavez, this tune is a tantalizing glimpse of genius to come from the threshold of Cameroon. This time it is neither a cry for political change nor a warning to the society at large, it is a keen observation of human nature. Experience has proven that most people who gather up around you in times of merry completely vanish from you in times of peril. This keen observation fanned the embers in the Go-Getter's heart, so much so that when the flames got going, he felt the deep seated need to make a song that will air his findings. The findings are not quite good because it's a devastating thing to know that some friends are not friends but fiends come around just for the single purpose of drowning your ocean.
https://soundcloud.com/daddyblack-thego-getter/sets/freedom-o-clock