Stanley Enow is an iconic figure and role model other Cameroonian artists should emulate. His verve, ingenuity in branding and music business savvy is an asset that keeps him relevant and clung to the throne for so long. Stanley Enow has succeeded to cement his image across Africa with his brand and music . 
Recently, 237showbiz accorded an interview to a Nigerian artist Solidstar , when asked about the 5 Cameroonian artists he'll like to collaborate with, he frankly said he's not vest with Cameroonian artists, and the only name that comes to his mind is Stanley Enow. 
That's how far the Bayangi Boy has printed an indelible impression on the African music scene. We can only emulate rather than hate on his dramatic progression. 
Our greatest Achilles heel that many pundits keep complaining about is that lack of support from fellow compatriots. When P Square came to Cameroon , they were interviewed on Boom TV and what they said wasn't different. "Support your artists". Davido said same a few months ago before pulling a capacity crowd in Douala. 
Stanley Enow has mounted the pedestal of repute but he still feels Cameroonian artists don't support each other.
He recently took to Twitter to frown at the fact that artists didn't share photos of his meeting with Ghanaian president Nana Akufo Addo .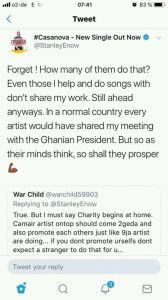 8