Cameroonian actress Stephanie Tum is hurling accusations on fellow colleague veteran actor Alenne Menget for being a gossip and promising him hell if ever he mentions her name again .
The exasperated actress took to Facebook to throw jabs at her one-time trusted confidant for slandering, tarnishing her image after making futile sexual advances towards her and for being so childish at his 40's to expose issues about her past financial problems and marital life. She's warned him never to call her name again and stay off her lane.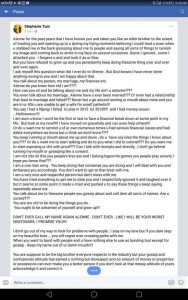 This heated outburst has triggered UK based blogger Bandy Kiki to add more salt to the injury. According to the owner of kinnaka blog, Alenne is a cantankerous gossip , a perv and ill mannered for requesting sex as a bait for movie roles . She further says
"Before I came out as a lesbian, Mr Alenne found out and tried to use it to silence me. when it didn't work he badmouthed me and prevented me from getting sponsorship during the launch of kinnaka TV.
She has also called on victims to break the silence . Ni , Alenne Menget is yet to react to this toxic accusations.