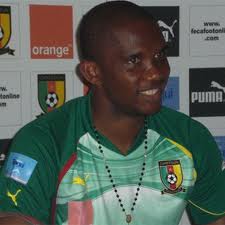 Roger Milla and Samuel Eto'o on Tuesday decided to burry their differences following a press conference accorded  by the captain of the Indomitable Lions.
The two Cameroonian football icons  have agreed to resolve their differences. They  made peace infront of the  journalists and cameras. By this strong gesture, Eto'o says he and Milla have decided to get together to serve Cameroon football diligently. According to the Inter Milan striker, Roger Milla is a  'living god of football'. In reaction Milla also lavished appreciation to the one he calls his son.

Eto'o equally  lamented about  the catastrophic outing in  South Africa  and affirmed that the  team has turned the page  and now looks towards the future.
The dove of peace continued its flight as Milla reconciled with   Mohammed Iya, president of FECAFOOT during the inauguration ceremony of the new leaders of the DTN.