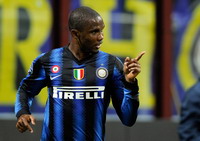 Despite the racist attacks suffered by Eto'o  in Italy when Inter Milan faced Cagliari last weekend, the Cameroonian forward has been  unstoppable. He scored twice yesterday in their 4-3 lead over Tottenham Hotspur at the UEFA Champions League.
Gareth Bale's brilliant hat-trick was in vain.

"He did well and has a lot of confidence," Benitez said of Eto'o. "The team is also playing well for him and this is always good for a striker. I hope he keeps playing well for us, so we can keep winning games.
"Eto'o can score a lot, he has a strong mentality and if the team keeps playing well alongside him I think he can score more than 30, like he said at the start of the season."
Enjoy the highlights