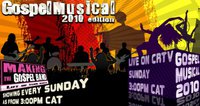 All qualified Candidates for the finals of the first edition of "MAKING THE GOSPEL'' band are expected to arrive the nation's capital, YAOUNDE , today  the  17th for the kick-off of activities commencing with a press conference on Monday , the 18th of October . It's worth-noting that some candidates dropped due to some academic and parental reasons.
Five candidates will be  selected from the twenty pre-selected to make the Gospel Band 2010 as the reality show unravels. Broadcast of house behavior, leadership and meeting with Daddy K (CEO of Gospel Musical) shall be broadcast every Friday and four candidates shall be eliminated from the Band each week and will be broadcast every Sunday Live on CRTV. The official broadcast  starts on the 31st of October from 3pm CAT.
Voting shall be done by sms to 8068 starting on  October 23rd , 2010. The team is currently working on the official website to enable people participate all over the world. GET READY !!