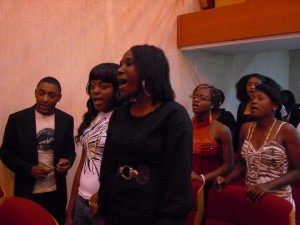 Finalists of the first edition of GOSPEL MUSICAL finally arrived Yaounde on Sunday 17th. Their programme  commenced on Monday , 20th with a press conference at the SOLOMON TANDENG MUNA FOUNDATION. The press conference was moderated by Ernest Kanjo with the panel constituting Papa T.D Rolland, Achalle Denis, Sylva Bright, Stanley Miki each contributing enormously to the fluidity of the project. Remarkable, was the presence of the President of  Cameroon music corporation, SOCAM, Odile Ngaska who lauded the initiative and efforts of the sponsors, DRIMP Foundation and the talent exhibited by the candidates. She also encouraged youths who have indulged into gospel music as their path and made them understand the value and enrichment in singing for God. Pertinent questions were raised by the different pressmen from CRTV , Christ TV, The Post , STV etc . Questions like the origin of the concept,the sponsorship,the sustainability,and committment were recurrent or iterative. All these questions were wittingly answered by the coordinator, Papa T.D Rolland.
The candidates led by Kora awards nominee, Achalle graced the conference with a soul searching song titled  'Our help comes from You'.?
After the press conference, the candidates and the entire team had a brief stop at the bakery to get some fast food . Later, they were cruised to CRTV Mballa II for the 'MONDAY SHOW' presented by Rose Epie. The performance was quite electrifying and  embraced by the audience.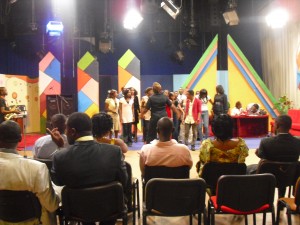 DAY 2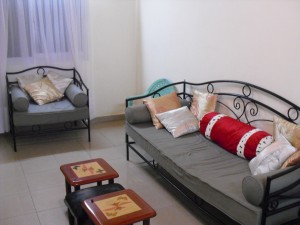 Candidates woke up very early today,  5 am . They were introduced to some physical exercises as part of their task coordinated by Uncle T. After breakfast, two very important visits were made to the ostentatious and cossy house inhabited by the 20 candidates. First was the visit of the Vice President of DRIMP foundation, Mrs Nforgwei Delphine with her entourage and later the visit of the president of SOCAM, Odile Ngaska.
The talk they both had with candidates was geared towards uplifting their morals and empowering them to reach out to the world with their voices.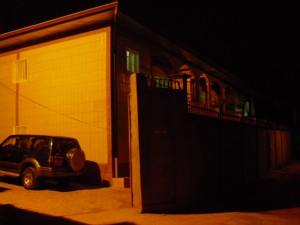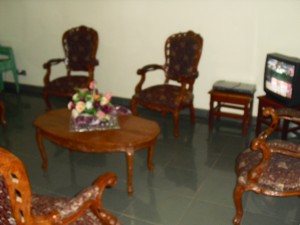 Vocal coach , Achalle conducted the selection of songs to be performed by candidates in the days ahead. Some are not quite satisfied with their choices while others believe they can made it through  regardless of their choices. Get ready to vote for your favourite singer by sms to :
8068
Catch the show LIVE on CRTV , every SUNDAY at 3:00 pm
Follow on Facebook via
http://www.facebook.com/pages/Gospel-Musical-Making-the-Gospel-Band/155700884458495?ref=ts