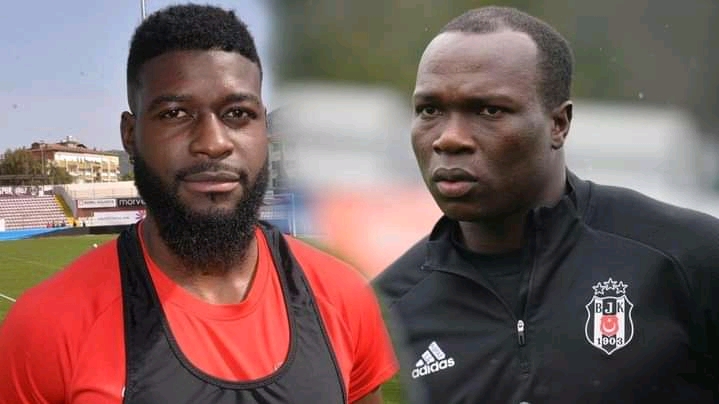 Hatayspor defender Jean-Claude Billong deliberately performed poorly to enable Aboubakar's team Besiktas win the championship – According to Turkish media
The raving scandal in Turkey right now is about two Cameroonian players; Vincent Aboubakar and Jean-Claude Billong.
Vincent Aboubakar , ex-striker of Besiktas (who signed at Al-Nasr Ryad in Saudi Arabia a few days ago) and Hatayspor defender Jean-Claude Billong have been accused of a match fixing conspiracy that  enabled Besiktas to be  Turkish champion last season.
According to  information culled from BeinSport, Vincent Aboubakar (Besiktas) manipulated and arranged with Jean-Claude Billong (Hatayspor) to deliberately perform poorly during the match inorder to give an advantage and opportunities for Besiktas to score numerous goals.
Besiktas beat Hatayspor 7 – 0 on Monday May 3rd and Billong's performance was disastrous and underwhelming.
According to Turkish media, Jean-Claude Billong  accepted Aboubakar's proposal in exchange for a national team call-up.
Central defender Billong has been accused for advertently allowing his team to concede five goals during the first half.
Aboubakar did not play the game due to an injury.
The score saw Besiktas rise to the top of the Turkish League standings, eventually becoming champions on goal difference (one more goal than second-placed Galatasaray). Turkish media says the fact that Jean-Claude Billong, was eventually called up for the Cameroonian selection to face Nigeria  corroborates their claim.
Jean-Claude Billong will find it difficult to return to Turkey. He has been having death threats for several days. Meanwhile, his club president says he has asked the sports director and coach to fire him.
#nexdimempire