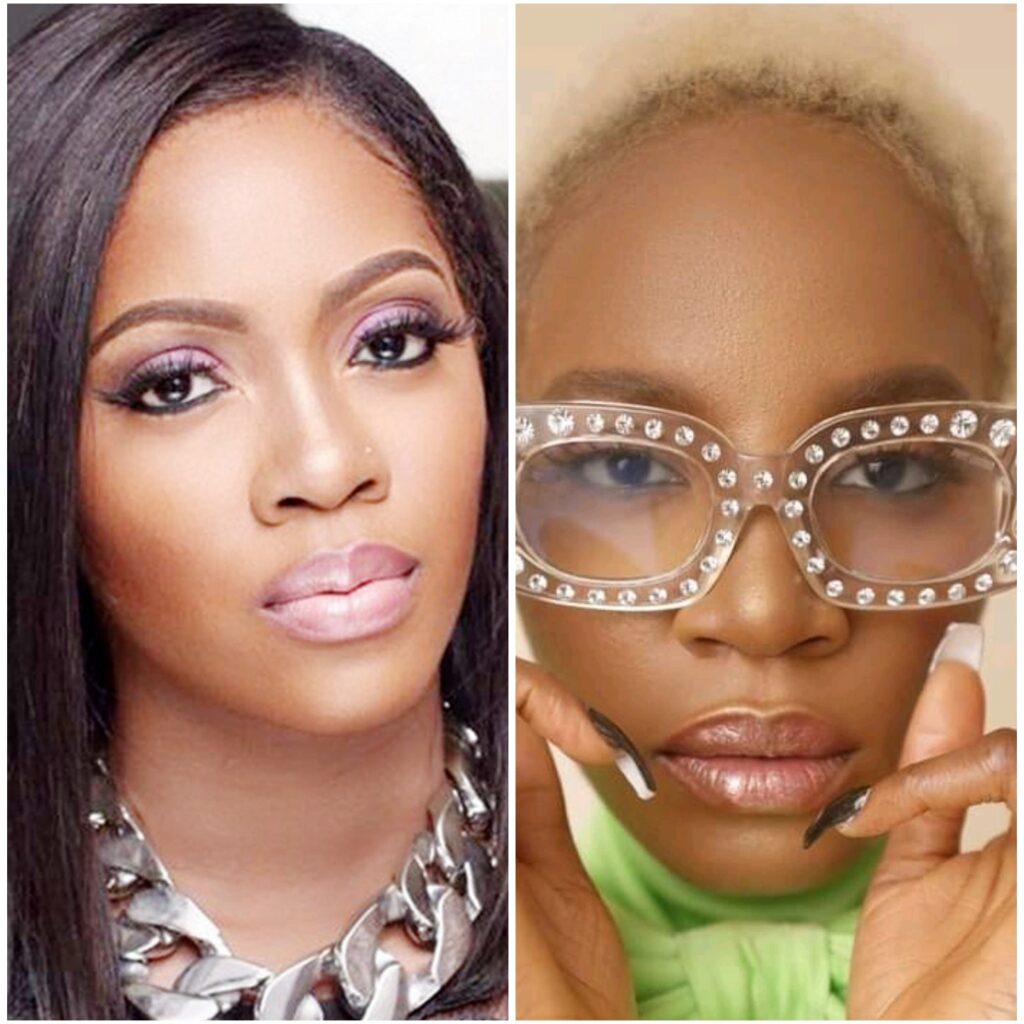 The long-standing rift between Nigerian singers Tiwa Savage and Seyi Shay got explosive on Tuesday when they finally engaged in a face-off at a hair salon in Lekki, Lagos.
In a viral video circulating, the longtime foes are involved in an altercation, hurling derogatory words, cursing each other and almost fighting. It would have been a serious brawl if the saloon assistants didn't intervene to take Tiwa Savage away.
Their confrontation began when Seyi Shay walked up to Tiwa Savage to say "hi" . This embittered Tiwa Savage who regarded the salutation as being hypocritical and double-faced.
Tiwa initially ignored while she was under the hair dryer.
She later attacked Seyi Shay and blurted out, "Don't come to me and think you can say hi, with the dirty and disgusting spirit that you have. You think I have forgotten how many years ago you and Victoria Kamani (Kenyan singer) did. Do you think I have forgotten? You think I can forget."
So… Seyi Shay and Victoria Kamani had jumped on Kizz Daniel's "#FvckYouchallenge" and the lyrics torpedoed Tiwa Savage with derogatory lyrics.
??
"Africa bad girl , you're turning 45, you can block me for a show but you can't block my blessings
We all know you're selling pussy and it's so depressing…you are f..king messy.
Seyi Shay ; "You know I'm not savage , I di pay my debt"
Seyi is also mad at Tiwa Savage for singing the song (Mister Lover Lover) she co-wrote with Ceeza Millie without giving her credit.
While having the bitter war of words, Seyi Shay told her "You got your facts wrong". She said Tiwa should get her facts right before accusing her of any wrongdoing.
Seyi then said Tiwa Savage is acting up and probably wants her to open up things here but she will not – "I'm not petty."
TIWA SAVAGE kept on fuming and swore by her child that she's never said anything pejorative about Seyi Shay – "If I'm lying , let God take my son's life" ??
Tiwa kept insisting and insulting Seyi Shay – "open it , open it…your nyash is the dirtiest in this industry, whore , slot …look at you, you look half dead. Seyi could be seen trying to keep calm.
Seyi Shay has reacted after the video circulated on the internet saying she walked up to Tiwa Savage because when they coincidentally met at the salon, everyone was staring at them to see how they'll react.
When she walked up to Tiwa and greeted, her reaction was initially friendly ; they exchanged pleasantries.
But about 20 minutes later ,Tiwa confronted Seyi and said ; " in your dirty stinking life , never ever greet me when you see me again"
She also said what Tunde Ednut who circulated the video didn't post was he part where Tiwa Savage cursed her that she will never have a child.
Seyi also revealed Tiwa Savage was exasperated when she was made Pepsi brand ambassador and approached the company to rescind the contract with her.
#nexdimempire