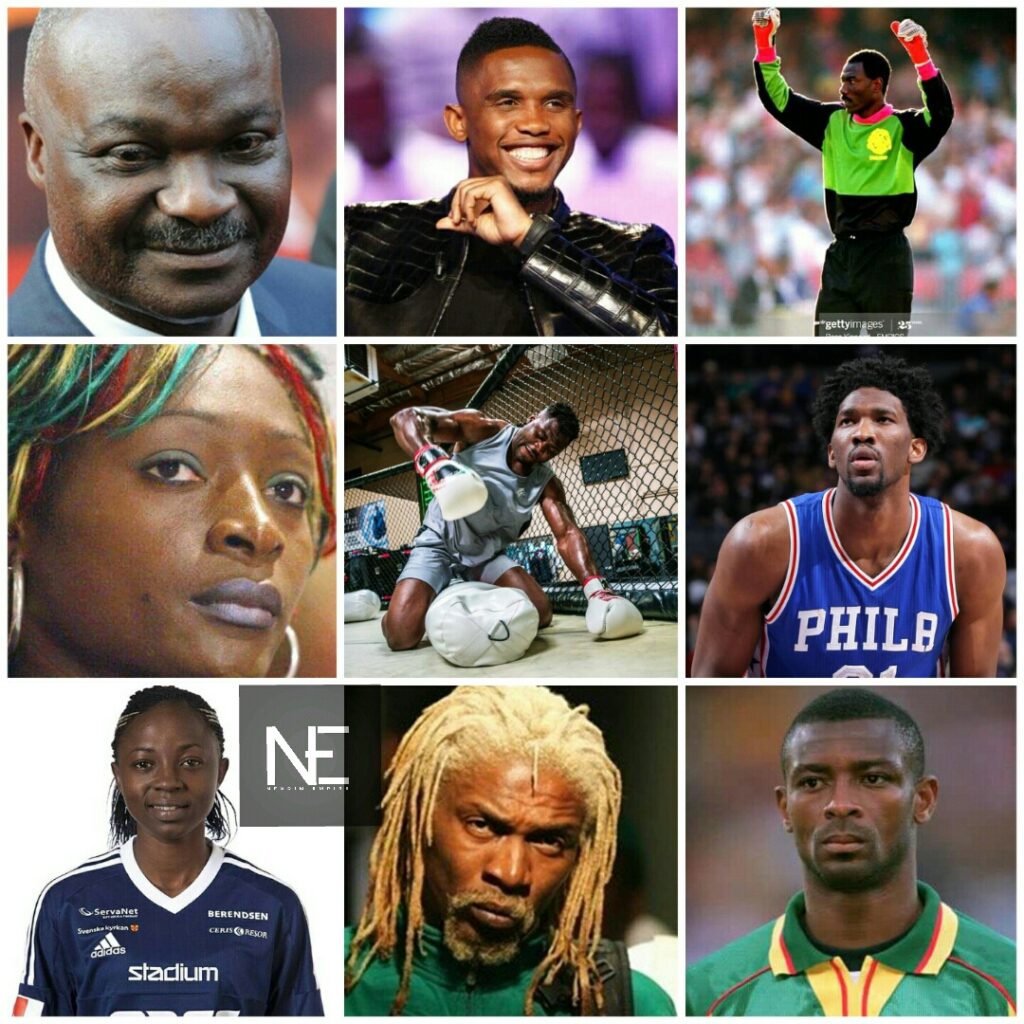 15 GREAT CAMEROONIAN SPORTERS WHO MADE US PROUD AT THE INTERNATIONAL STAGE.
1. SAMUEL ETO'O
Samuel Eto'o is undoubtedly Cameroon's greatest football player of all time.
He has been 4 times African Footballer of the Year (2003, 2004, 2005 and 2010) and top scorer at the AFCON in 2006 and  2008 with 5 goals each . He has also won AFCON 4 times with Cameroon.
In 2006, while playing for Barcelona, he became the highest goal scorer in La Liga netting 26 goals.
In 2011, Samuel Eto'o was highest goal scorer at Coppa Italia with 5 goals.
He has won the UEFA champions league 4 times:
With Real Madrid in 2000, Barcelona in 2006 & 2009 and with Inter Milan in 2010. Also winning 3 Spanish cup titles with Barcelona.
He has 1 Olympic Gold medal under his belt with Cameroon and the all-time highest scorer of Indomitable Lions with 56 goals.
Samuel Eto'o has 4 world cup participations.
2. ROGER MILLA
Milla has been capped 77 times for the national team, scoring 43 goals. Milla made his first appearance for Cameroon in 1973 versus Zaire in a World Cup qualifier. He was a member of Cameroon's team at the 1982 FIFA World Cup, having a goal disallowed against Peru in their first match. Cameroon went out with three draws from their three first-round games. Two years later, he was part of the squad competing at the 1984 Summer Olympics in Los Angeles, California.
In 1990, 38-year-old Milla emerged as one of the tournament's major stars. He scored four goals in Italy, celebrating each one with a dance around the corner flag that has become a popular goal celebration ever since. He is the oldest player to have scored at a World Cup at 43.
3. FRANCOIS OMAM BIYIK
Omam-Biyik's greatest moment came when he scored the downward header that gave Cameroon a historic 1–0 win over defending world champions Argentina in the San Siro in the opening match of the 1990 World Cup. He and his brother André Kana Biyik helped Cameroon to the quarter-finals.
He also scored against Sweden in the first round of the 1994 World Cup.
Omam-Biyik scored a total of 26 goals in 73 appearances for Cameroon. He is Cameroon's record World Cup player, with 11 matches in three tournaments.
4. GEREMI NJITAP
He has been the best free-kick taker in Cameroon's football history. He has played for top teams like Real Madrid, Middlebrough, Chelsea and Newcastle.
The most successful periods of Geremi's club career came at Real Madrid and Chelsea, winning the UEFA Champions League with the first and domestic honours with the latter.
Geremi earned 118 caps for Cameroon from 1996 to 2010, scoring 13 goals. He was a member of their squad for seven Africa Cup of Nations tournaments, winning in 2000 and 2002, as well as the World Cup in 2002 and 2010 and a gold medal at the 2000 Olympics
5. THOMAS NKONO
Nkono basked in international fame ; his 112 Cameroon caps included winning the 1984 African Nations Cup, and memorably helping the Indomitable Lions shock holders Argentina 1-0 in the opening game of the 1990 World Cup. In fact, his performances in reaching that tournament's quarterfinals in Italy inspired a 12-year-old Gigi Buffon to become a goalkeeper and to also name his son Thomas after his idol.
6. RIGOBERT SONG
With 137 appearances, Song holds the record of the most capped player in the history of the Cameroon national team and has played in four World Cups, in 1994, 1998, 2002 and 2010.
He has played for Metz, Lens, Liverpool, Westham, Galatasaray, ans Trapzonspur .
Song has won AFCON with Cameroon twice (2000/2002) and emerged runner-up at the Confederations cup in 2003.
7. KAMENI CARLOS
Before he was 20, Kameni represented the country in two World Cups and six Africa Cup of Nations tournaments.
He was the first-choice goalkeeper as Cameroon finished as runners-up at the 2003 FIFA Confederations Cup. He has win Copa Del Rey with Espanyol in 2005/2006 and runner-up at UEFA Cup in 2006/2007. He became Malaga player of the year in 2014.
8. LUC MBAH A MOUTE
He currently plays for the Houston Rockets of the National Basketball Association (NBA). Mbah a Moute also plays for the Cameroon national team.
He was PAC-10 All Freshman of the Year in 2014
On the 22nd November 2017, in a 125–95 win against the Denver Nuggets, Mbah a Moute finished with a plus-minus of +57, the highest in an NBA game in 20 years. He was a perfect 5-of-5 shooting for 13 points in 26 minutes, during which the Rockets outscored the Nuggets 93–36.
9. JOEL EMBIID
He is a Cameroonian professional basketball player for the Philadelphia 76ers of the National Basketball Association (NBA).
Embiid has the most points by a Sixers player since Allen Iverson.
On 18 January 2018, he was named a starter for the 2018 NBA All-Star Game, becoming the first Philadelphia player selected as an All-Star starter since Allen Iverson in the 2009–10 season, and the first Sixers All-Star since Jrue Holiday in 2013.
10. PASCAL SIAKAM
He is a Cameroonian professional basketball player for the Toronto Raptors of the National Basketball Association (NBA).
After being assigned to the NBA Development League (now the G League) as a rookie in 2017, he led Toronto's affiliate team to a league championship and picked up Finals Most Valuable Player honors in the process. Siakam would later help the Raptors claim an NBA championship in 2019 while winning the league's Most Improved Player Award in the same season, the first player to win both during the same season. He was named an NBA All-Star for the first time in the 2019-20 season.
11. FRANCIS NGANNOU
Francis Ngannou is a Cameroonian professional mixed martial artist competing in the Heavyweight division of the Ultimate Fighting Championship. As of 31 August 2020 he is #15 in the UFC men's pound-for-pound rankings and #1 in the UFC heavyweight.  rankings.In 18 matches , he has won 15 and lost 3 .
He hold a record of 2017 Knockout of the Year vs. Alistair Overeem.
12. NJOYA AJARA YAYA
She plays for Norwegian club Vålerenga since 2019, having played 2016–17 for Swedish club Sundsvalls DFF and the Cameroon national team. In 2015, she represented American National Women's Soccer League (NWSL) club Western New York Flash.
During the 2019 World Cup, she score. Cameroon's two goals in the team's only win of group play that led them to the round of 16. In August 2019, she was nominated for 2019 FIFA Puskas Award for her goal against New Zealand at the Women's FIFA World Cup.
13. VINCENT ABOUBAKAR
He began his career at Coton Sport and moved to Europe in 2010, playing for Ligue 1 clubs Valenciennes and Lorient, totalling 109 appearances and 26 goals in France's top division. In 2014, he signed for Porto, where he played over 100 games and scored over 50 goals, winning a Primeira Liga title. He won the Turkish Süper Lig while on loan at Be?ikta? in 2016–17.
Aboubakar has earned over 60 caps for Cameroon since his international debut in May 2010. He was part of their squads for the 2010 and 2014 FIFA World Cups, as well as the Africa Cup of Nations in 2015 and 2017. He scored the winning goal in the final of the latter.
14 . FRANCOISE MBANGO ETONE
Francoise Mbango is a  track and field athlete. While competing for Cameroon, Etone was a 2-time Olympic gold medalist in the triple jump at the 2004 Olympic Games in Athens, Greece and 2008 Olympic Games in Beijing, China. She currently holds the Olympic record for triple jump which she set with a distance of 15.39 m at the Beijing Olympics in 2008. The 15.39 m is the third longest women's triple jump in history under any conditions. Only 25 women have ever jumped 15 metres, Etone jumped beyond 15 metres on 7 of her last 11 attempts in the Olympic final alone.
15. SIMON BIYONG
Simon Biyong is a Mixed Martial Art MMA fighter. He is the 1st ranked of 23 active Italy Pro Light Heavyweights and 7th ranked of 156 active Europe Western Pro Light Heavyweights.
On Saturday 28 September 2019, he  became MMA African champion after defeating Soth African Quinton Rossouw .
By Nexdim
www.nexdimempire.com